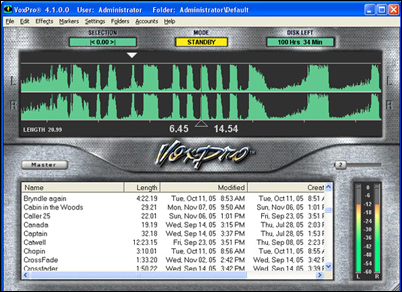 Seattle, WA (PRWEB) May 12, 2006
Bainbridge Island software manufacturer Audion Laboratories has released VoxPro 4.1, adding a publication wizard to VoxPro's audio recording/editing software that generates RSS files, compresses audio in MP3 format and uploads audio files directly to the web.
VoxPro 4.1's new features were added to create an all-in-one production tool able to record, edit and publish professional quality broadcasts to the Internet. Being able to do so allows stations to broadcast more timely content for subscribers and listeners of emerging podcasting markets, making each listeners' online experience more interesting, informative and fun.
Other features added to VoxPro include a new search function allowing file names to be searched using particular combinations, 'vertical zoom' that enables very low level signals to be clearly seen and edited, noise reduction to remove recording hum and hiss, improved AGC (automatic gain control), markers, mono-mix recording, adjustable VU meters, and the ability to add ID3 tags to files being exported in MP3 formats.
For existing VoxPro 4.0 users, the new 4.1 upgrade will be available through http://www.audionlabs.com.
For complete product information about VoxPro 4.1.0 go to http://www.audionlabs.com.
About Audion Laboratories, Inc.
Audion Labs is a digital editing software solutions manufacturer, distributing the best in digital audio editing products to professional voice markets. Audion is committed to creating the fastest, most reliable, easy-to-use editing suite for deejays, reporters and producers to produce and distribute content over-the-air and online. Founded in 1993 by former Seattle radio air personality Charlie Brown, Audion is based on Bainbridge Island, 6 miles from Seattle, Washington. Products are sold worldwide.
Audion & VoxPro are trademarks of Audion Laboratories, Inc. in the United States and/or other countries. The names of actual companies and products mentioned herein may be the trademarks of their respective owners.
###