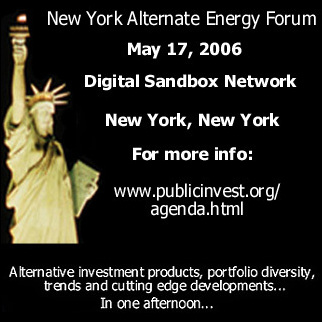 NEW YORK (PRWEB) May 12, 2006
On May 17, 2006 a gathering of alternative energy experts will explore the investment outlook for the industry, highlight key factors that are likely to contribute to growth and help identify opportunities and pitfalls for sophisticated investors.
The all day conference will feature speakers from all sectors of the alternative energy industry as well as institutional investors and financial practitioners.
Featured speakers include Peter Fusaro, Chairman Global Change Associates, Douglas Faulkner, Principal Deputy Assistant Secretary, Energy for Efficiency and Renewable Energy Department of Energy, Walter Nasdeo, Managing Director, Ardour Capital Investments, Joseph Parella, Utility Supervisor Office of Economic Development and Policy Coordination New York State Department of Public Service, Christopher d'Arnaud-Taylor, President & CEO, Xethanol Corporation among others.
Institutional investors, hedge funds, private equity firms and traditional investment management firms seeking to gain exposure to this fast growing industry will benefit from attending this forum.
Over 100 investment professionals are registered to attend the event, which is being organized by Public Investment Network LLC.
The agenda is available for viewing at http://www.publicinvest.org/agenda.html
About the Ardour Global Index:
The Ardour Global Index (AGI) of 76 domestic and foreign alternative energy stocks has risen over 40% already this year. For more visit http://www.ardourcapital.com.
For further information on this event, contact:
Raj Kashyap
Public Investment Network
917-916-2933
Alternative Energy Info:
Brian Greenstein
Ardour Capital Investments
212-375-2956
###