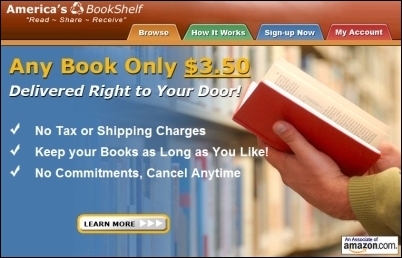 When Netflix came along, Bill and I found it perfect for our lifestyles.
Minden, NV (PRWEB) May 16, 2006 –-
Each new best selling book title represents a chance to be informed or entertained, to see things in a slightly new way. Unfortunately, too many of those books are read once and then placed on a shelf to catch dust. For all the joy people know in passing on a cherished book to another reader, few of us have the chance. And every book not passed on represents a use of paper that will never be reclaimed.
America'sBookShelf.Com (http://www.americasbookshelf.com) is a brand-new web site dedicated to both book sharing and ecological stewardship made easy. Readers enjoy a chance to pass previously enjoyed titles on to other readers and can receive a steady supply of new books delivered conveniently by US Mail. And for a limited time, they are offering free one year memberships to the next 10,000 new members.
Home delivery can be very important to people who live in the country, shut-ins, or anyone who simply wants convenience. "We read a lot of books, enjoy movies and live in a semi-rural area," said Deb Denkler, COO of America'sBookShelf.Com, and co-owner of the site with her husband, Bill. "When Netflix came along, Bill and I found it perfect for our lifestyles."
The couple decided to combine the Netflix business model with their desire to save trees and create community. America'sBookShelf.com works for both people needing books and for readers willing to share. The service lets members request books from among titles listed on their website, keep them with no late fees and hold on to the books for as long as they please. Hardcover or paperback books are delivered to their door for $3.50 each, using pre-purchased Book Credits. Members can request books they want to read from the site at http://www.americasbookshelf.com and receive them in the mail.
However, the books do not come from some sterile warehouse in Delaware. Instead, the books come from the users themselves. The Denklers realized that people have a lot of books they have read and are anxious to share. Passing a well-loved book between members is, a unique and satisfying way to build community. As such, their site allows users to post titles they are willing to pass along. When someone requests a book featured on the site, America'sBookShelf.Com sends the person listing the book post-paid shipping materials. Simply place the book in the mail and soon someone will be enjoying a recycled book.
"We wanted each member to be part of the America'sBookShelf community," Denkler said. "Our members easily upload 10 or more books into the database."
This is not just an issue of helping people be good neighbors, though. It's a way for the Denklers to make sure their business is part of the forward-looking eco-friendly business community. They purchase green tags from Nativeenergy.com, supply their office with as many recycled products as possible and are a certified member of Co-opAmerica.org's Green Business Network. They have been featured in SustainaBlog.com and Treehugger.com.
"We wanted America'sBookShelf.Com to be involved in the green movement by helping people recycle books between their homes and across the nation," Denkler said. "America'sBookShelf.Com members can help save one tree from the pulp and paper mills with every 65 books shared."
To coincide with their Earth Day launch, America'sBookShelf.Com is giving away the next 10,000 one year memberships for free.
Contact:
Deb Denkler, COO
America'sBookShelf.Com
http://www.americasbookshelf.com
775-267-6657
###