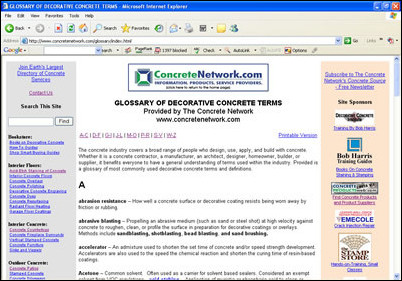 Yucaipa, CA (PRWEB) May 17, 2006
The concrete industry covers a broad range of people who design, use, apply, and build with concrete. Whether it is a concrete contractor, a manufacturer, an architect, designer, homeowner, builder, or supplier, a general understanding of terms used within the industry can be very beneficial. The Concrete Network, the largest and most comprehensive source for concrete information on the web, provides a glossary of most commonly used decorative concrete terms and definitions.
The glossary includes over 200 decorative concrete terms, and is organized by simple alphabetical navigation. Terms cover types of decorative finishes such as acid stain, stamped concrete, and concrete overlays, as well as application techniques such as flashing (or flash broadcasting)] and diamond grinding, and technical terms such as craze cracks, delamination and efflorescence.
Many of the terms link to additional information and other resources found on The Concrete Network and other related sites. For example, viewers interested in epoxy terrazzo can read the definition of the term and then click on it to access an expanded section with information including design options, how it's installed, and much more. This feature allows readers to find relevant information quickly and easily.
The Concrete Network also offers many tools for readers to research decorative concrete including a substantial glossary specifically for concrete countertop terms, and a photo gallery covering the gamut of decorative concrete applications including concrete interior floors, driveways, patios, pool decks, concrete countertops, fireplaces, concrete furniture, and much more.
Established in 1999, The Concrete Network's purpose is to educate consumers, builders, and contractors on popular decorative techniques and applications including stamped concrete, stained concrete floors, concrete countertops, polished concrete, and much more. Over 750,000 visitors research The Concrete Network Web site each month.
The site excels at connecting buyers with local contractors in their area through its Find-A-Contractor service. The service provides visitors with a list of decorative concrete contractors throughout the U.S. and Canada, and is fully searchable by 22 types of decorative concrete work and 198 metropolitan areas throughout North America.
###