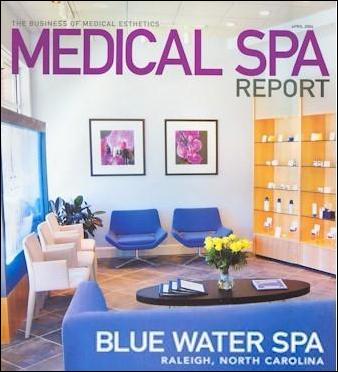 Raleigh, NC (PRWEB) May 16, 2006
Medical Spas: Medical Spa Consultant and laser expert provides information and training. Medical Spa expo and conference in Las Vegas features a three hour presentation by medical spa expert Kile Law, owner of Blue Water Spa, a plastic surgery medical spa and laser center in Raleigh, NC. Blue Water Spa is owned and operated by Kile and her husband Michael Law MD, a board-certified plastic surgeon.
The 2006 International Esthetic, Cosmetic Spa Conference in Las Vegas June 5th, 2006 http://www.iecsc.com will feature a presentation by Kile Law, with limited seating available.
In a three hour presentation, Kile will cover topics such as:
Choosing the appropriate technology:
A handout with comparisons of all hair removal lasers and other aesthetic technology will ensure the ideal lasers and medical spa technology are selected for a medical spa. This will be one of the many handouts available only at this presentation
Staff Issues:
Hiring and retaining the best people to make your spa profitable, successful, and a great place to work. No Hard Sales, No Quotas!
Medical Spa Consultants:
Do you need a consultant? Probably not.
Medical Spa Franchises:
The positives and negatives of a franchise
Marketing your spa:
Affordable ways to bring new business and keep existing business in your spa.
New Trends:
What are the new popular trends in medical spas, what works, what doesn't and what can be dangerous.
According to the International Spa Association (ISPA), medical spas have had a growth rate of 133% -- higher than any other type of spa -- within the past 5 years. The International Medical Spa Association (IMSA)
states that there were approximately 1,500 medical spas worldwide. By 2007, IMSA anticipates medical spas to generate $1 billion in revenues.
Very limited seating is available for this special interactive presentation. To reserve a space call 800-624-3248 or go to http://www.iecsc.com for more information
Kile Law is one of the few medical spa consultants who actually owns and operates a successful medical spa.
Blue Water Spa was voted one of the top four Medical Spa in America by American Spa Magazine. Since opening in 2003, Blue Water Spa has doubled in size and become a nationally recognized medical spa.
Kile Law is the winner of the 2004 ABBIES Award for best editorial feature in a professional publication, and is the recipient of the 2005 Humanitarian of the Year Award from the Southern Spa Conference. Blue Water Spa was voted one of the best places to work in the Raleigh, NC area 2005 by the Triangle Business Journal. Articles by Kile Law, or interviews with her have appeared in Plastic Surgery News, Spa Finder Magazine, Cosmetic Surgery Times, Luxury Spa Finder, Medical Spa Report, Skin Inc. Magazine, Plastic Surgery Products, Spa 20/20, Dermascope, Les Nouvelle Esthetique and many other publications.
Kile has appeared on numerous television programs and in magazines. She is an in-demand speaker at both medical and spa conferences. She is regularly interviewed by television news and entertainment programs seeking her expertise on medical spas, lasers and anti-aging skin care. For more information, go to http://www.bluewaterspa.com or http://www.michaellawmd.com To reserve a space for the Las Vegas conference, go to http://www.iecsc.com or call 800-624-3248.
# # #