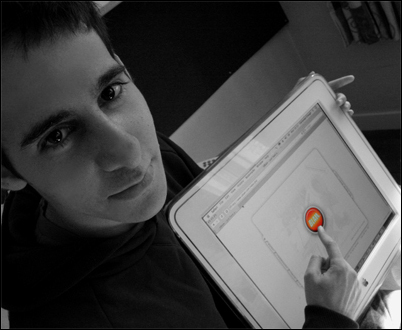 the concept just seems to have grabbed people's attention.
(PRWEB) May 16, 2006
Christian Clough and Ashkan Miri launched their website, http://www.UBlam.com from their halls of residence in London after they decided to enter the 'Imperial College £55K Entrepreneurs Challenge' with a £25,000 first prize.
The BLAM, a push-able button on their site, takes you to a web page chosen randomly from the UBlam list. Web page owners, both business and private, add their pages permanently to this list for 1 US dollar (55 British pence).
Christian Clough, who is studying a BSc in Biology at Imperial, said "The essence of the idea is that web page owners can increase the chances of their page being seen once the BLAM is pressed by adding repeat entries. So we're selling luck too!"
To date, users in countries as far flung as, Reunion, Nepal, Indonesia and the Faroe-Islands have become 'Blammers' by pushing the button. 'Blamming' has proved especially popular in the US and the UK with over 45,000 Blammers so far.
"The reaction has been unbelievable," Miri says, "the concept just seems to have grabbed people's attention."
Ashkan Miri, who is studying a Masters in Civil Engineering at Imperial, added: "We've set ourselves the goal of getting people Blamming in every country in the world. So far we're around half way there."
Web page owners around the world are benefiting from this by putting their page on UBlam. "There are many creative people out there with their own little web spaces filled with content like comics, blogs or art work that no one ever sees, UBlam makes the world aware of them", Miri commented, "We aim to make UBlam a fun experience and thus all the links are verified by us before they get added".
Asked what they will do with any extra cash, Clough said, 'Having been a year away from home, we're going to get some family-time in first. Then we have some new business ideas that we'd like to invest in.'
The BLAM button can be found at http://www.ublam.com
Contact: Christian Clough
+44 (0)20 785 23025 or +44 (0)7850 911446
###