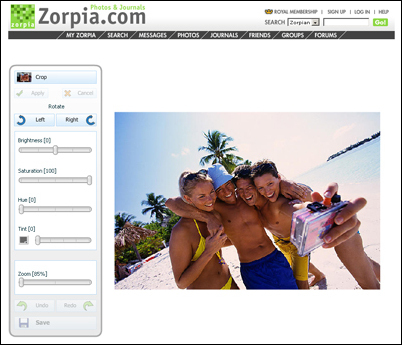 Zorpia photo editor is a great tool for all digital camera owners
(PRWEB) May 18, 2006
Bring photo editing online with an effortless process, a pleasing result and no software installed. The solution is the Zorpia photo editor where photographers can enhance photo sharing and blogging experience with their own creativity.
Zorpia developed a flash-based photo editor which integrates the most popular photo editing functions into a simple, self-explanatory platform. The web-based editor includes features like crop, rotate, brightness, saturation, hue, tint, unlimited undo or redo, save a copy, and also supports non-destructive editing.
"Zorpia photo editor is a great tool for all digital camera owners" said Jeffrey Ng, CEO and founder of Zorpia.com.
By using the Zorpia photo album feature, members can store unlimited pictures and then apply touch up work through simple procedures. Thus the editor becomes a perfect companion for blogging where users can insert customized images and build a story around them. "Allowing our members to freely express their artistry is the objective of this project," Ng said.
The web-based editor is convenient to use. "It is a great choice for people that are at school or an internet cafe. The flash-based editor will allow them to work on their photos at any location," said Ng.
Photo sharing transcends basic photography to a tailored art work with a touch by the Zorpia photo editor. "You can share your personalized photos directly through our website or by hotlinks to share photos through other websites such as myspace" Ng added.
The smooth and quick editing experience adds more character in the photographs. "It is forming a culture of appreciating photos as an art as well as a fun, creative bliss," stated Ng.
A demo version of the Zorpia photo editor is available at http://www.zorpia.com/cgi/journal.cgi?1528799
About Zorpia.com
Zorpia is a social networking website. It currently has more than 2.3 million members, 11.5 million photos stored and are receiving 3.6 million pageviews each day. It provides a community setting for users to share unlimited photos, post journal or forum entries, and customize personal profiles and skins. Their membership demographic is largely based in the United States. It is similiar to myspace, flickr, friendster, facebook, hi5, xanga and tribe.net.
# # #