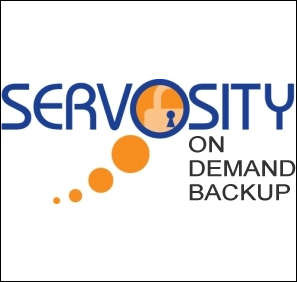 We have made our unprecedented free 100GB trial available for download from our website www.servosity.com to allow anyone to take our online backup service for a 'no obligation' free trial run
Ferndale, WA (PRWEB) May 22, 2006
Servosity, the trusted source in remote online data protection announced today that their new version 5.0 release now supports the broadest range of platforms and applications in the online backup industry. From Microsoft to Oracle, from Linux to Mac OSX and above, Servosity can meet the data protection needs of most every business large or small.
Some of the features now available with version 5.0 are:
Incremental in-file delta backup
Protect multiple servers/pc's for the price of one
Single mail level exchange backup
Volume Shadow Copy backup (backs up open files)
Superior Bank Level encryption
Fast data restores and support available 24X7
Servosity's broad platform support, reliability and ease of use provide customers the confidence they need to focus on growing their business instead of being distracted with worry of data loss.
CEO's, IT managers and business owners have been looking for a more reliable disaster recovery solution than the tape for reliable, automatic, offsite backup. Data loss had huge negative financial implications on companies of all sizes last year. Servosity has met this challenge head on with their "disk to disk" managed online backup protection and recovery service.
"Servosity's remote Online Backup has more than passed the test for my company. "We upgraded our data systems recently and Servosity allowed us to restore our data perfectly. For less than the cost of a cup of coffee a day our data is protected and we don't have to think about it, it just works automatically everyday," says Debbie Griffith-Brown, CEO of Professional Network Connections.
"We have made our unprecedented free 100GB trial available for download from our website http://www.servosity.com to allow anyone to take our online backup service for a 'no obligation' free trial run," says Damien Stevens, CEO of Servosity On Demand Backup. "We are confident that after using our service for free, most people will want to continue protecting their data with our online backup service. Within 5 minutes from downloading our free trial and selecting which files to backup the user can begin protecting their data." Servosity provides online backup and recovery services to businesses of all sizes starting as low as $0.85 per day. Take advantage of Servosity's free trial today to see if Servosity is right for you. For more about Servosity visit http://www.Servosity.com.
# # #