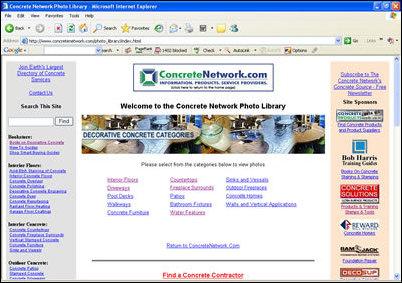 Yucaipa, CA (PRWEB) May 19, 2006 –-
Finding design ideas and searching for patterns, styles, and colors for an upcoming project can be quite time consuming. Often it includes subscribing to design magazines and scouring each issue hoping to come away with one good photo or idea. It also may include visiting numerous retail outlets looking for samples, contacting manufacturers for brochures, or wasting hours online at irrelevant Web sites. Now, readers interested in finding ideas for decorative concrete work, including textures, patterns, colors and styles, can go online to The Concrete Network, the largest and most comprehensive source for concrete information.
The Concrete Network offers the largest collection of online photo galleries of decorative concrete work. Its main photo library consists of 14 categories filled with finished concrete work photos. Categories include interior floors, driveways, pool decks, patios, countertops, fireplace surrounds, concrete homes, and more. In addition, the photo library is updated every Friday with more new photos of decorative concrete work, so the categories continue to grow with fresh, and innovative design ideas.
The Concrete Network also provides a directory of concrete contractors with links directly to their Web sites. Visitors can view the Web sites of contractors within 198 metros throughout the US and Canada, providing links to thousands of photos. Researching is easy by accessing The Concrete Network contractor directory, choosing a type of work category, clicking a local state and metro area, and then choosing from the listings of contractors in each area. Each listing includes contact information (company name, phone number, email address) and Web site. This feature allows visitors to find decorative concrete photos easily and quickly. The photos are intended for design ideas only and may not be reproduced or published without permission.
Established in 1999, The Concrete Network's purpose is to educate consumers, builders, and contractors on popular decorative techniques and applications including stamped concrete, stained concrete floors, concrete countertops, polished concrete, and much more. Over 750,000 visitors research The Concrete Network Web site each month.
The site excels at connecting buyers with local contractors in their area through its Find-A-Contractor service. The service provides visitors with a list of decorative concrete contractors throughout the U.S. and Canada, and is fully searchable by 22 types of decorative concrete work and 198 metropolitan areas throughout North America. Photo courtesy of Kemiko Concrete Products.
###