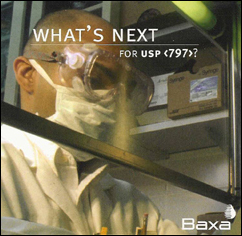 Englewood, CO (PRWEB) May 19, 2006
'What's Next For USP 797?' -- an educational CD -- is now available from Colorado-based Baxa Corporation to hospital pharmacists and administrators as a public service to the industry. The presentation by Eric Kastango, MBA, RPh, was originally recorded at the annual American Society of Health-System Pharmacists (ASHP) Midyear Clinical Meeting in Las Vegas this past December.
The CD details the changes currently under discussion and the likely impact on hospital pharmacy practices across the country. Providing pharmacy directors and managers with an overview of the new requirements and the reason for the changes, the presentation includes a discussion of the steps that healthcare providers can take to influence the final revision. Expected to help pharmacy directors and operational managers better understand the requirements for meeting the environmental controls outlined for sterile compounding under the new Chapter, the CD includes a discussion of current state for pharmacy compliance and the necessary next steps in moving from gap analysis to action plan for addressing the pharmacy changes to comply with USP 797.
The presenter, Eric Kastango, MBA, RPh, is a Fellow of the American Society of Health-System Pharmacists and has served on the ASHP's Council of Education Affairs and as a pharmacy surveyor for the Accreditation Commission for Health Care, Inc. (ACHC). Kastango travels across the United States to make professional presentations on a variety of pharmacy practice topics, including USP General Chapter 797 compliance, sterile preparation and pharmacy compounding errors, quality systems and collaborative pharmacy/nursing practice models. He is an elected member of the United States Pharmacopeia Council of Experts (Sterile Compounding Committee).
ASHP is a 30,000-member national organization representing pharmacists practicing in hospitals, homecare, HMOs and alternate-site facilities. The Society provides extensive published and educational resources that help pharmacists improve their professional standards and make the best use of medicines and technology for patient safety and improved outcomes. ASHP holds two annual meetings for members and industry representatives.
To receive a complimentary copy of the CD, please submit your name, title, organization affiliation and mailing address information to: call 800.567.BAXA (2292).
About Baxa Corporation
Baxa, a customer-focused medical device company, provides innovative, solution-based technologies for fluid handling and delivery. Its systems and devices promote the safe and efficient preparation, handling, packaging, and administration of fluid medications. Key products include Rapid-Fill™ Automated Syringe Fillers, Exacta-Med® Oral Dispensers, MicroFuse® Syringe Infusers, Repeater™ Pharmacy Pumps, and Exacta-Mix™ and MicroMacro™ Multi-Source Compounders; used worldwide in hospitals and healthcare facilities. Privately held, Baxa Corporation has subsidiaries and sales offices in Canada and the United Kingdom; direct representation in Belgium, Denmark, Finland, France, Germany, Luxembourg and The Netherlands; and distribution partners worldwide. Further information is available at http://www.baxa.com.
For additional information about USP 797, the technical paper "Understanding USP 797" is available at http://publicrelationsnewsroom.com/_wsn/page4.html.
Contacts:
Marian Robinson, Vice President, Marketing
Baxa Corporation http://www.baxa.com
800.567.2292 ext. 2157 or 303.617.2157
Maggie Chamberlin Holben, APR
Absolutely Public Relations http://www.absolutelypr.com
303.984.9801 or 303.669.3558
###