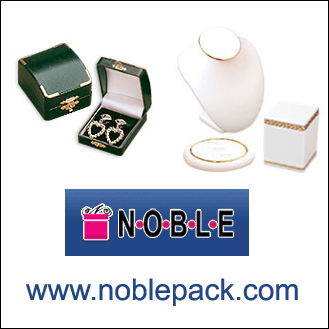 (PRWEB) May 18, 2006 –
Noble Packaging, leading distributor and direct manufacturer of jewelry boxes and gift basket supplies of distinction, is proud to announce the launch of their new web site at http://www.noblepack.com.
The site features attractive pictures and better product descriptions and is a worthy forum for the high-quality merchandise Noble offers. Whether a wholesale order to stock a jewelry chain or gift supply house or a single order of the classiest and most unique variety, Noble has a wide range of cases and jewelry displays made of the finest materials, such as leather, crystal and acrylic. Noble also offers a vast selection of some of the most unique and enchanting material on the Internet for use in creating a gift basket.
The new site (http://www.noblepack.com) offers more than 16,000 items in stock and ready to ship today. Noble combines an impressive inventory with an unmatched commitment to customer service. The new site features a patented "one button shipping system." The site is programmed to automatically calculate the most cost-effective and fastest shipping method available. Orders received before 4 pm are shipped the same day. In the rare instance an item is on back order, that item is shipped at no cost to the customer.
Jewelry boxes are more than just containers. Instead, they are the one kind of box that must fit with the carefully chosen present inside. Noble does justice to this reality by offering the widest possible range of jewelry boxes in a broad array of materials, including leather, genuine hardwood, jewelry boxes with gold accents and metal, plastic and cardboard jewelry boxes covered with the finest paper, velvet and velour. They carry both jewelry boxes for gift giving as well as boxes for storing collections. Each type of box is covered in the finest European materials, designed to hold color even under hot lights and crafted with quality. Noble carries no shoddy items with leaky glue or unmatched pieces.
In addition to jewelry boxes, Noble also offers complete solutions for jewelry display. From rings to neckwear, Noble can help any jewelry retailer ensure their displays are every bit as attractive as the jewelry they showcase. Displays are in all manner of materials, from acrylic, crystal, wood and leather and are completely washable. Noble carries innovative and fashionable displays and puts them on the market first. They back up carrying a range of colors by having all those colors in stock and ready to ship.
Noble also offers thousands of different gift packaging solutions, especially options for those needing to create a stunning gift basket. Gift baskets are presents of enduring popularity for both business and personal gift giving. No matter the industry, Noble has the raw materials for creating gift baskets that satisfy both gift giver and recipient. Noble carries a rainbow of shreds to line the gift basket in paper, wood, tissue and crinkle cut varieties. Noble also sells the widest range and highest quality of bags, pouches, cellophane, wrapping and tissue paper, ribbons, bows, ornaments and tags. Anyone in a gift packaging industry will find a ready source meeting all their needs at the new Noble Packaging website.
Furthermore, Noble offers a number of imprinting services to customize jewelry storage and gift giving packages. Boxes can be printed on the top, inside and on the two piece packer. Any of their displays, bags, pouches, tissue paper and ribbons can be printed as well. Customers can even choose from a range of printing methods, from hot stamping, ink printing, Flexo printing, silk screening and Foil printing.
Noble's commitment to customer service continues even after the order has arrived. They arrange pick up and shipping of all returned merchandise. Simply call the Noble Packaging customer service center and rest easy.
Whatever the industry, from jewelry boxes and displays to gift baskets and other packaging solutions, the new Noble Packaging website has an unprecedented number of options. Visit http://www.noblepack.com.
Contact:
Malka Herzog
800-463-8388
###