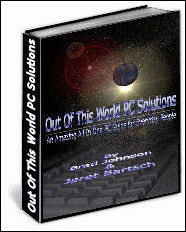 Out Of This World PC Solutions – An Amazing All in One PC Guide for Everyday People
Victoria, BC (PRWEB) May 20, 2006
Many of us who are beginners with our PC or the Internet in general have had headaches with trying to figure out computer manuals. Either they're too long and complex, or many of them seem to patronize you as well as ramble on too much with obvious details. Not only can these types of guide books be frustrating, but there's always the hassle of buying multiple volumes just to get all the information you're looking for on different facets of the IT industry.
The great news is there may be an end to this headache as Brad Johnson and Jaret Bartsch, authors of a new e-book entitled "Out Of This World PC Solutions – An Amazing All in One PC Guide for Everyday People" deliver the first unique PC Guide of its kind and both authors agree that this particular guide is ideal for the average computer user and will educate and entertain them like no other can.
"Not only will you learn how to use and maintain your PC better than ever before," Brad Johnson explains, "but we focus on a variety of different topics within the book which will make each person improve their knowledge of the IT industry. We've focused on the most talked about areas within Information Technology and deliver it to the reader in the most easiest and informative way possible."
Not only does Out Of This World PC Solutions focus on a variety of different topics, but it has been developed to be entertaining as well with the odd joke appearing to keep the reader interested. It is also half the size of many popular PC Guide books as it only focuses on the most talked about issues at hand and leaves out all the rambling.
"Many people really don't know the power the Internet has." Brad Johnson explains further. "A lot of common Internet users think that the World Wide Web is just there for information and entertainment purposes. But by reading our book, you'll find out how the Internet can make you a successful entrepreneur and bring in an enormous amount of profit. We've done all the research and have experienced first hand what the Internet can do for businesses, and we want to share our findings with everyone."
Below are just some of the areas you can learn more about that's contained within this E-Book:
Purchasing A PC
Understanding the Basics of Your Computer
Learning all the Advanced Functionality of Windows XP
Easily Enhancing Your Computer's Overall Performance
Addressing Common PC Problems
PC Networking
Internet Security
The Truth About Hackers
Learning Basic HTML
Creating a Money-Making Website
Using the Internet to Your Advantage
The authors, Brad Johnson and Jaret Bartsch, are two knowledgeable individuals skilled with Computer and Internet Marketing knowledge. They have trained and assisted a large multitude of clients throughout all the topics covered within the E-book.
Not only is this an Everyday Person's PC Guide book, but its price is very commendable as it is only $20 CDN. The Out Of This World PC Solutions E-book will be available for purchase on May 31st through its official website. A soft cover edition of the book will be released in late June and will include a PC Tutorial DVD created exclusively by the authors. Registration Bonuses will be made available for anyone who would like to sign up as a free subscriber to Out Of This World PC Solution's weekly newsletter until midnight of the May 31st launch date. Visit the official website at http://www.outofthisworldpc.com for more information.
###