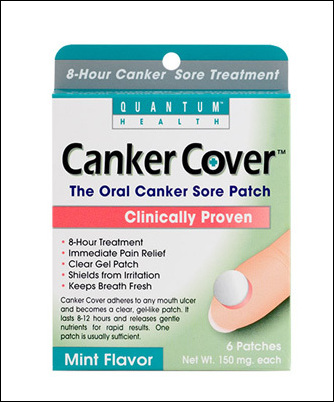 My patients have had an overwhelmingly positive response to Canker Cover
Eugene, OR (PRWEB) May 22, 2006
An innovative canker sore treatment patch has been shown to heal canker sores within a day or two while providing pain relief and protection from all irritants. The clinical study, involving 248 canker sore patients, was published in the Journal of Pharmaceutical Sciences*. The study showed that the Canker Cover oral patch healed 60% of the participant's sores within 8 hours, and the average overall healing time was 1.5 days. Compared to a typical canker sore healing time of up to 14 days, this is a revelation for those who suffer from these painful mouth sores. For more information visit http://www.cankersoretreatment.net
The study's corresponding author, Dr. Abraham J. Domb said the results were impressive. "The study showed that the Canker Cover patch healed the majority of canker sores with a single application, provided immediate pain relief and afforded excellent protection from food and drink irritants."
Canker Cover™ is a tablet-like patch made from edible ingredients. It sticks to the canker sore within seconds and forms a clear, gel-like protective 'seal' that lasts 8 to 12 hours. The patch completely stops the pain, protects the sore from tongue, teeth, food, drink and other irritants, and won't come off while eating. While on, the patch releases menthol, sea salt, citrus oil and other nutrients which prevent pain and speed the healing process. For most users, a single patch is all that is needed. As an added benefit, the patch keeps breath fresh. For more details, visit http://www.cankercover.com.
Dr. Ethan Schuman, DMD, a dentist with a large practice in St. Louis and an expert on advanced dental technologies, has given the treatment to many of his own patients. "My patients have had an overwhelmingly positive response to Canker Cover," he said. "The fact that it stops food and drink from irritating the sores is absolutely huge. And they are thrilled when the sore is gone in 8 hours instead of a week or two. It is far and away, the most innovative approach available."
In the past, Dr. Schuman has had patients try almost every kind of treatment, but with limited success.
"I've given out samples of almost every canker sore product available, but Canker Cover is the only treatment that's inspired my patients to call and thank me." said Dr. Schuman.
"Most canker sore products are simply topical pain relievers that numb the pain", Dr. Schuman stated. "But, as anyone who's ever had a canker sore knows, they work only moderately well and need to be reapplied constantly. There are liquids gels that form a film over the sore, but they don't last very long and a good hot drink will make them melt. A few products contain anti-bacterial agents primarily used to prevent secondary infections, which are rare in any event. Of course, none of these products speed healing to any significant degree."
Canker sores are shallow, painful sores on the inside of the lips, the inside of the cheeks, or on the gums. They begin as small, reddish swellings. Then they burst, and the ruptured sores are covered with a white or yellow membrane. The edges of the sores are still red, and look like a painful red halo. Without treatment, canker sores heal in 2 to 3 weeks. If canker sores persist or continue to return, a physician or dentist should be consulted to rule out other causes.
Fifty six million Americans get canker sores but teenagers and young adults get them most often, and women are more frequently than men. Nobody knows for sure what causes canker sores, although stress, vitamin B12 or iron deficiencies, menstruation, hormonal changes, and food allergies are all suspected.
Over $146 million is spent each year by those who suffer from canker sores. Canker Cover, marketed by Quantum Health, is gaining popularity through retailers such as Rite Aid, CVS, Walgreen's, select Wal*Mart stores, Fred Meyer and Bi-Mart.
*Journal of Pharmaceutical Sciences (93:2927-2935).
The study was conducted through the Dept. of Medicinal Chemistry, School of Pharmacy, the Hebrew University of Jerusalem.
Contact:
David Shaw 310-313-4799
dshaw2@quantumhealth.com
VIDEO AVAILABLE ON MAX WORLD NEWS' SATELLITE FEED:
The news feed includes a canker sore definition with images, information on causes and treatments, and interviews with dentist Dr. Ethan Schuman and one of his patients.
Preview at:
http://easylink.playstream.com/networknewssource/quan/cankersoretreatment.wvx
Tuesday, May 23, 2006
14:00 - 14:30 (Eastern)
Satellite: Galaxy 3 (C-Band)
Transponder: 21
Dual Audio: 6.2/6.8
Downlink Frequency: Horizontal - 4120 MHz
For more NEWS FEED information, script or hard-copy contact SteveConklin @ (561) 752-3288 ext 311.
Hi rez images of Canker Cover are available at: http://www.quantumhealth.com/press_image/canker_cover_img.html
Quantum, Inc. — Natural Products That Make a Difference —Quantum is a natural product company founded in 1981 that specializes in unique formulations designed to help people feel and look their best. Key categories include cold sore treatments, canker sore treatments, cold and flu relief, natural insect repellents, head lice treatments, skin care and immune support. Based in Eugene, OR, Quantum's makes over 50 products which are distributed throughout the United States and Canada and on the Internet. For more information, call toll-free at 1-800-448-1448 or visit http://www.quantumhealth.com
###