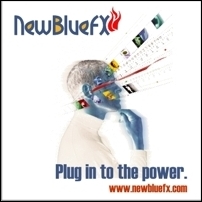 You won't find run-of-the-mill effects here
La Jolla, CA (PRWEB) May 23, 2006 -–
Interactive technology developer NewBlue, Inc. announced today the launch of its first end-user targeted product line, NewBlueFX. The products will be sold directly on http://www.newbluefx.com and in OEM bundles. Initially featuring 7 collections of 57 effects plugins, NewBlueFX add simplicity and power to popular digital video editing software packages, such as Sony Vegas, Adobe Premiere, ULead Video Studio and Media Studio, Avid Liquid, and Pinnacle Studio.
"You won't find run-of-the-mill effects here," explains Melissa Jordan Grey, NewBlue co-founder and chief creative officer. "NewBlueFX offer a fresh, innovative approach to plugin technologies. Our company's roots are in film and music production, and this innate understanding of the creative process shows in our work."
In addition, the NewBlue is offering "Halovision," a free Sony Vegas video effect to all users who visit the NewBlueFX web site. This video effect plugin creates an aura around objects in the frame. Halovision simulates paint effects ranging from "halo" to "soft glow" to "water color painting."
-Product Family Overview-
The NewBlueFX product line consists of two main categories, AudioFX and VideoFX.
Features of the AudioFX collections run the gamut from audio filtering, such as equalization, noise reduction and compression to creative sound manipulation tools, such as "Insectoid," "Buzz" and "Robot Fog." In the VideoFX collections, users will find plugins that provide artistic techniques, such as air brushing, pastel sketching and line drawing, as well as motion effects, such as earthquake, spin blur, wiggle and zoom.
Included in the AudioFX category are 5 distinct VST-compatible collections.
NewBlue Equalizers, 9 specialized audio filters that boost or cut ranges of tone in a specialized manner. Plugins include: Adjust Highs, Adjust Lows, Graphic EQ, Parametric EQ, Remove Highs, Remove Lows, Tone Eliminator, Filter Sweep, and Swirl.
NewBlue Essentials, 8 standard audio processing tools, NewBlue Essentials make any soundtrack complete. Plugins include: Chorus, Delay, Distortion, Echo, Flange, Phaser, Reverb, and Slap Back.
NewBlue Production Tools, 11 must-have effects to boost the clarity and performance of video soundtracks. Plugins include: Sharpener, Stereoizer, Monofier, Bass Boost, Crisper, Compactor, Sound Expander, Dual Compressor, Tone Compressor, Dual Expander, and Tone Expander
NewBlue Scrubbers, 6 powerful, easy-to-use audio repair techniques. Plugins include: Audio Polish, Cleaner, Auto Mute, Background Fader, Hum Remover, and Noise Reduction
NewBlue SoundBenders, 9 environmental, vocal and atmospheric effects. Plugins include: Buzzurgle, Insectoid, Phone, Radio, Resonator, Robot Fog, Under Water, Wah and Wind.
Included in the VideoFX category are 2 collections, designed for Sony Vegas editing software:
NewBlue Art Effects, 7 specialized video filters that create a visually stunning alternate reality. Plugins include: Air Brush, Colorize, Dream Glow, Duochrome, Line Drawing, Metallic, and Pastel Sketch.
NewBlue Motion Effects, 7 specialized video filters that add movement to the video image. Plugins include: Active Camera, Earthquake, Motion Blur, Shear Energy, Spin Blur, Wiggle and Zoom Blur.
-Pricing and Availability-
NewBlueFX are available worldwide via direct download on the NewBlueFX website, http://www.newbluefx.com. The collections are designed for the Windows PC platform with Macintosh versions planned in the near future.
NewBlue Art Effects: $89.95 USD
NewBlue Equalizers: $49.95 USD
NewBlue Essentials: $49.95 USD
NewBlue Motion Effects: $69.95 USD
NewBlue Production Tools: $49.95 USD
NewBlue Scrubbers: $49.95 USD
NewBlue SoundBenders: $49.95 USD
-About NewBlue-
NewBlue, Inc., privately-held by former Microsofties and industry-recognized software entrepreneurs, develops innovative audio, video and multimedia technologies for leading companies throughout the world.
The NewBlue team comprises experienced developers, musicians, artists, and software professionals with a unique and commanding set of skills, experience and talent. This collaborative range of talent and skill produces innovative and powerfully functional technology for the audio, video, multimedia and gaming communities
Founded in early 2002. NewBlue develops and licenses a range of proprietary technologies -- including the NewBlue Audio Engine and Audiomatrix technology platform -- that meet the varied multimedia needs of mid- and large-sized companies. In addition, NewBlue offers consulting services on a range of multimedia projects.
The company launched its NewBlueFX product line in 2006 to meet the needs of end-users who use digital video editing software. The collection of software plugins includes special audio and video effects, such as audio filters, noise reduction, equalization, compression and dozens of sophisticated graphic filters and transitions.
NewBlue, Inc.
7514 Girard Avenue
Suite 1-314
La Jolla, CA 92037
858.551.5145
858.777.3316 fax
NewBlue is a registered trademark and NewBlueFX, NewBlue Equalizers, NewBlue Essentials, NewBlue Production Tools, NewBlue Scrubbers, NewBlue SoundBenders, NewBlue Art Effects, NewBlue Motion Effects, AudioFX and VideoFX are trademarks of NewBlue, Inc. All other products are trademarks of their respective holders.
# # #