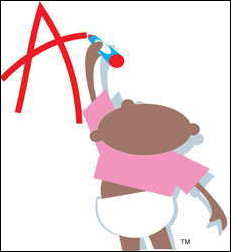 Marshal McLuhan appears to have been wrong. The medium is not the message. The message is the message!
Atlanta, GA (PRWEB) May 22, 2006
Does the content of what children watch matter? Research says yes and the originator of videos for young children wants to encourage parents to use media wisely with pre-school children.
"Not all videos are created equal, especially when it comes to those for young children," states Dennis Fedoruk, President of The Brainy Baby Company in Atlanta, Georgia. Studies show that age appropriate content and educational television programs help children develop language skills, pro-social behavior and school readiness.
According to University of Texas research in 2003 from the Center for Research on Interactive Technology, Television & Children (CRITC), "There was a positive relationship between the viewing of educational programs, especially those with cognitive curriculum and children's reading ability(ages 0-5)."
Robert Doman Jr., Child Developmentalist agrees, "If the television did not already exist, we would need to create it as an educational and therapeutic tool." Doman is the President/Founder of the National Association for Child Development (NACD) in Ogden, Utah. "Appropriate, specific input and stimulation are never more vital than in the first years of life, and among the best vehicles for supplying that input are well-developed educational video programs."
"Parents should be encouraging educational television viewing for their young child," states a University of Texas study (Vandewater, Bickham 2004), which found that reading skills improved in children, ages 2-5, who had a media diet of educational programming.
"We believe that education is a gift that parents give their children and our job is to provide the tools that make a difference, such as curriculum based DVDS/videos and Learning Systems," adds Fedoruk. "Parents need to help children develop a healthy media diet that is balanced with physical activity, reading and parental interaction."
In the 60's the guru of communication believed the medium was the message. But as the late John C. Wright, co-founder of CRITC, pointed out, when it comes to children and television, "Marshal McLuhan appears to have been wrong. The medium is not the message. The message is the message!"
Since 1995, Dennis Fedoruk and Brainy Baby® DVDs have received over 40 awards (Dr. Toy, Parent's Choice, Parenting Publications, KIDS FIRST!) and have an extensive line of educational products (DVDS, books, toys, games) that help children develop the Love of Learning for a Lifetime. Visit http://www.BrainyBaby.com.
###