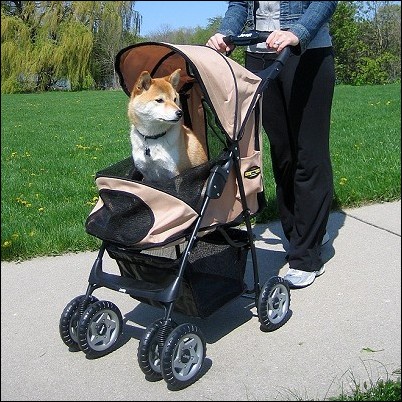 We want to offer pet lovers the best selection of pet strollers, but only ones that are high quality, safe and reliable
Milwaukee, WI (PRWEB) May 22, 2006
The name Jeep® brings to mind safe, rugged, and reliable transportation, and pets now can enjoy the same benefits with the introduction of the Jeep® Wrangler Pet Stroller available at JustPetStrollers.com.
"Pet strollers were introduced to the public just a couple years ago, and the growth in their popularity has been tremendous," says Geralee Ray of JustPetStrollers.com. "The Jeep® Wrangler Pet Stroller is the first branded pet stroller on the market, and it really demonstrates the visibility and growth of this product for pet lovers."
Manufactured by Pet Gear, maker of the popular Happy Trails and AT3 pet strollers, the Jeep® Wrangler Pet Stroller is perfect for the pet on the go. The large undercarriage storage basket holds personal belongings, pet toys and other necessities, while the "parent tray" provides an easily accessible place for keys and beverages. The Jeep® Wrangler Pet Stroller also includes a special side pocket, the perfect place for cell phones, pet treats, or other small items. For added convenience, the stroller easily folds flat in just seconds for storage or travel.
The Jeep® Wrangler Pet Stroller offers the quality and durability expected from the name Jeep®. Pets enjoy the most comfortable ride available thanks to the rugged, durable wheels with shock absorbers. The stroller has a strong steel frame and 600 denier nylon with bug-proof mesh so pets enjoy excellent views and ventilation. The Jeep® Wrangler Pet Stroller easily holds cats, dogs, and other pets up to 30 pounds, and is sure to last for years to come.
JustPetStrollers.com is the first national retailer to offer the Jeep® Wrangler Pet Stroller, just as it was the first to offer the Pet Gear Ultralight pet stroller and Petego Sports Wagon Bike Trailer earlier in 2006.
"We want to offer pet lovers the best selection of pet strollers, but only ones that are high quality, safe and reliable," says August Ray. "With such strong growth in this relatively new category, we've occasionally seen new pet stroller products that don't measure up, and we refuse to offer pet strollers in which we wouldn't trust our own pets."
"We also want our customers to get the information they need to make the right decision," adds Geralee, which is why JustPetStrollers.com offers extensive information, photographs, videos, and even a Pet Stroller Buying Guide. The Buying Guide offers tips and assistance for first-time pet stroller purchasers and can be found at http://JustPetStrollers.com/buying-guide.
JustPetStrollers.com and Pet Gear expect to see strong demand for the new Jeep® Wrangler Pet Stroller. According to August, "Within an hour of launching this new product on our Internet site, we sold a couple of the Jeep® pet strollers! The demand has been greater than we anticipated, but we're committed to offering fast and free delivery on the Jeep®, as well as all of our other pet stroller products."
About JustPetStrollers.com: JustPetStrollers.com (http://www.JustPetStrollers.com) is the Internet's first Web site dedicated to the pet stroller, a product that is seeing substantial growth in popularity. The Internet retailer offers five-star customer service and has been rated by its customers into the top 3% of all Yahoo Stores. With secure online ordering, toll-free phone service, and information to help consumers make the right pet stroller selection, JustPetStrollers.com seeks to maintain its position as the premier U.S retailer of pet strollers. JustPetStrollers.com is operated by Metropawlis, LLC, a family-owned business in Milwaukee, WI. For more information, visit http://www.JustPetStrollers.com.
# # #