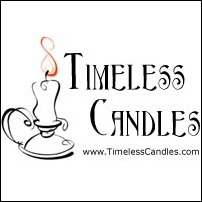 It's not often that a small business startup gets a chance like this.
Portland, OR (PRWEB) May 29, 2006
With the launch of its Memorial Day themed podcast, Timeless Candles shows that it's on the cutting edge of where business communications is headed, and that it plans to stay there.
Paul Colligan, http//:http://www.paulcolligan.com , the author of the soon to be released Business Podcast Bible and the creator of 123PodcastLaunch.com said "Personally, I think the angle that the Timeless Candles people are taking is more than interesting, it's brilliant - building buzz for the site from the Podcast. Imagine hearing 9 episodes of something before you can even possibly visit the sales site."
Timeless Candles, which won't open its doors for business until June 30th, is already demonstrating that it intends to be an industry leader when it comes to added value service and utilizing cutting edge technology.
According to Timeless Candles' webmaster Kelly McAwley, "I love cutting edge communications and I knew that this was an opportunity for us to be on the leading edge of business communications." He added, "It's not often that a small business startup gets a chance like this."
Not everyone at Timeless Candles is sold on the technology side of the podcasts, "Really, I couldn't care less about all this cutting edge stuff," said Mary Richardson co-owner of Timeless Candles. "I just love candles and I know there are a whole lot of other women, and maybe some men too, who also love them." Richardson went on to say: "When you think about it, candles actually do play a prominent role in our lives. Whether it's Memorial Day here in the United States or Dia del Muerto down in Mexico, celebrating a wedding or a special family holiday meal, candles are an integral part in how we express our pain and joy - which is a pretty unique function of candles."
Back on the use of podcasts McAwley went on to say: "I knew the podcast would be a fun experiment, but what I couldn't really predict was how well the podcasts would be received. I am actually thrilled by Mr. Colligan's response. And, while she might not care about cutting edge technology, I know that Mary's pleased by the number of people who have been contacting her to comment on the candle information she's sharing."
Selling candles, votives, pillars, tealights and candle holders, the company will officially launch their candles web store on June 30, 2006. In the meantime, anyone interested in this hot new Internet startup can sign up at Timeless Candles, to receive pre-launch updates.
Contact:
Kevin Hodsdon
1-888-878-3196
# # #