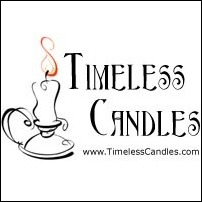 Sherwood, OR (PRWEB) May 22, 2006
Timeless Candles is already proving that it plans to be more than votives, tea lights and pillars. This candles e-commerce site hasn't even made its first sale, but that hasn't kept it from offering value added service for its visitors.
"When we ask, 'How may we brighten your day?' we're not just talking about selling you candles" says Mary Richardson co-owner of TimelessCandles.com. Richardson went on to say "Candles aren't just our business, they're our passion. We know there's a lot more to candles than meets the eye, and we expect our customers will be people who appreciate that."
TimelessCandles.com Webmaster and SEO expert Kelly McAwley said "Listening to Mary's enthusiasm about candles I knew we had to find a way to give voice to it, and podcasting offers the perfect vehicle for this." McAwley added, "I've got to admit, Mary's enthusiasm about candles has even got me excited about them, and I am not a very excitable person."
Recently a link has been added from Timeless Candles homepage to the podcast. The podcast can also be accessed through iTunes. McAwley notes "If you want to download all the episodes to play on an iPod or other MP3 player go to iTunes and in their podcast section just search the term "candles." Adding with a smile, "You can't miss us - we're #1 in the list."
Selling votives, pillars, tea lights and candle holders, the company officially launches on June 30, 2006. You're invited to drop by and listen to the podcasts.
Contact:
Mary Richardson
1-800-658-1917
Kelly McAwley
1-800-658-1917
# # #