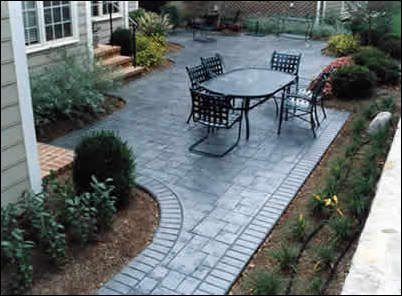 To say there has been an explosion in decorative concrete is quite the understatement! Homeowners are hiring decorative concrete specialists to color, stain, score, stamp, overlay, or otherwise decorate the pool decks, entries, driveways, and walkways around their homes. This catalog provides ideas for all the amazing techniques for beautifying concrete
Yucaipa, CA (PRWEB) May 24, 2006 –
The Concrete Network, the largest and most comprehensive source for residential concrete information on the web, offers a free downloadable catalog for homeowners, designers, and builders looking for ideas for decorative concrete applications. Filled with 24 pages of full color photos, Concrete Hardscapes profiles 10 decorative concrete contractors throughout the U.S., with spectacular photos of their work. Each contractor shares information on the latest design trends, most popular colors, patterns, and styles requested within their respective regions.
"To say there has been an explosion in decorative concrete is quite the understatement! Homeowners are hiring decorative concrete specialists to color, stain, score, stamp, overlay, or otherwise decorate the pool decks, entries, driveways, and walkways around their homes. This catalog provides ideas for all the amazing techniques for beautifying concrete," said Jim Peterson, president of The Concrete Network.
Amcon, Inc., located in Gaithersburg, Maryland, has seen a large increase in pool-related projects. "Many homeowners not only want a pool, but a total package - a back yard retreat in which they can escape and relax at the end of the day and on weekends."
Using decorative concrete as part of a home's overall design is also happening in the Staples, Minnesota area. "We have been doing large decorative driveways, 2,000 to 5,000 square feet, lakeside patios and wrap around porches. This is in keeping with the rustic and log homes found in the lake areas," according to Mike Verlennich of Verlennich Masonry and Concrete.
Decorative contractors can also spruce up existing concrete. Concrete Art, located in Carlsbad, California, turns boring gray concrete into surfaces with innovative designs and vibrant colors. "We enhance existing surfaces so homeowners don't have to go through the arduous process of replacing concrete," says company president Jeffrey Grieve.
Bill Guthro of Distinctive Concrete points out that stamped concrete, for instance, is also very cost effective. "Stamped concrete is usually about one-third less than the price of installing natural materials," according to Guthro.
Established in 1999, The Concrete Network's purpose is to educate consumers, builders, and contractors on popular decorative techniques and applications including stamped concrete, stained concrete floors, concrete countertops, polished concrete, and much more. Over 750,000 visitors research The Concrete Network Web site each month.
The site excels at connecting buyers with local contractors in their area through its Find-A-Contractor service. The service provides visitors with a list of decorative concrete contractors throughout the U.S. and Canada, and is fully searchable by 22 types of decorative concrete work and 198 metropolitan areas throughout North America.
Article photo courtesy of Amcon, Inc. Attached photos courtesy of Concrete Art, and Distinctive Concrete of New England.
###