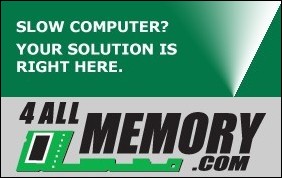 St. Louis, MO (PRWEB) May 24, 2006
A new "Memory Installation Guide" available on the 4 All Memory Web site might be just the ticket if you are looking to speed up your computer without the cost or hassle of taking your equipment to a service center. Even for first-timers, this is an easy indoor project for the upcoming Memorial Day weekend. And the increase in speed and performance will seem almost like magic.
At 4 All Memory, thousands of customers each week learn how to upgrade their computer memory at home for the very first time. Computer memory upgrades are a fast, easy way to speed up your notebook or desktop computer. It's the inexpensive addition of RAM, or random access memory, which helps a slow PC or Mac to run more smoothly.
What many don't realize is that installing upgrade memory is something virtually anyone can do at home in just minutes. For most first-timers, the Memory Installation Guide on the company website does just the trick, providing simple, step-by-step instructions along with photos and line drawings that give you confidence. Don't worry, though; the company's toll-free phone number and online live chat are just the trick for those needing additional support.
4 All Memory is one of those consumer-friendly companies that Dell, Hewlett-Packard, Apple and the likes might prefer that people not discover. Why? Well, not only is upgrading the RAM memory in an older computer smart, but even new PC buyers can save with 4 All Memory. Instead of buying additional memory from Dell at the time of purchase, more and more consumers are turning to 4 All Memory for RAM when they buy new equipment, avoiding the high mark-up on memory modules and other accessories from the computer manufacturers. Why not perform a little memory magic on your own desktop or laptop computer this Memorial Day weekend? A visit to 4 All Memory will help you do the trick.
About 4 All Memory
4 All Memory is a St. Louis-based computer accessories online retailer. In addition to computer memory, you can also find memory for digital cameras, printers, and MP3 players, as well as hard drives and other upgrades. For more information, please visit 4allmemory.com.
###