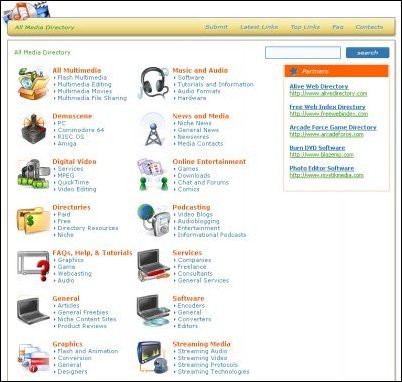 Hampstead, NC (PRWEB) May 25, 2006
All Media Directory launched a new directory site featuring various multimedia resources at http://www.AllMediaDirectory.com on April 30th. The site allows visitors to search for media-related sites, or to browse multimedia resources in a directory structure featuring a variety of categories and subcategories.
Multimedia resource sites submitted to the directory are grouped in a wide range of categories, from music and audio to graphics to software. Each category is broken down into several smaller subcategories in an effort to make browsing the media directory easier on site visitors. In a greater service to visitors, All Media Directory also provides listings of both "Latest Links" and "Top Links" in the directory.
All Media Directory is always accepting link submissions which fall within the range of categories available. Directory links can be purchased in several levels, including a discounted rate for reciprocal links, a middle level for regular links, and a premium level for featured multimedia links in the directory.
About All Media Directory
All Media Directory is a growing database of media sites and multimedia resources launched on April 30, 2006. Website owners can purchase links within the directory in varying levels to be included in categories specific to their site's niche, and hoping to earn placement in the directory's "top links" list.
For more information, please visit http://www.AllMediaDirectory.com. Chris Hoffman can be reached at 800-819-7430 to answer any questions.
###