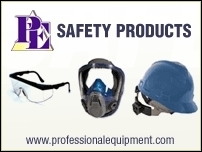 In selecting personal protective equipment, it is important to carefully consider the different hazards in the workplace. We are confident that our new line of products and equipment will provide superior protection in an array of hazardous conditions, enabling employees to safely get the job done
Hauppauge, NY (PRWEB) May 25, 2006
Recognizing that safety products are as necessary to industries as good employees and top-quality tools and equipment, Professional Equipment now offers an extensive line of personal protective equipment (PPE), expanding its wide selection of products for inspection, electrical, HVAC, engineering, municipal, and building professionals.
Because different jobs require different kinds of protection, Professional Equipment features all types of safety supplies, including protective clothing, safety glasses and goggles, work gloves, back support belts, fall protection, hard hats, hearing protection, knee and elbow pads, rain wear, reflective vests, face shields, respirators, two-way radios, and much more, by trusted brands such as 3M, Kimberly-Clark, North Safety, Carhartt, Kleenguard, Motorola, and several others.
"The proper equipment can dramatically reduce the number of accidents and injuries in the workplace. Our safety products address the need for outstanding comfort, durability, and value", commented Roland Kravats, Director of E-Commerce for Professional Equipment.
These new safety products are a logical addition the company's product portfolio, which is dedicated to providing professional and industrial staff with the tools and equipment they need to make their jobs easier and safer. Professional Equipment's seasoned experts and knowledgeable staff work continuously to expand this selection, making it the single source for tools and testing equipment for professional, industrial, and consumer use.
"In selecting personal protective equipment, it is important to carefully consider the different hazards in the workplace. We are confident that our new line of products and equipment will provide superior protection in an array of hazardous conditions, enabling employees to safely get the job done", added Kravats.
About Professional Equipment
Professional Equipment has been serving the equipment needs of the facility maintenance, inspection, and construction industries worldwide since 1987. In addition to a thriving e-commerce website, the Professional Equipment catalog gives professionals the opportunity to browse its most popular items each month. For more information, please visit Professional Equipment.
###