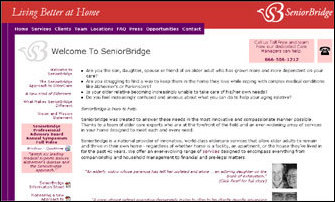 Social workers are an integral part of our care management services, and this was a great opportunity for us to work closely with the Hunter School of Social Work and provide support for social work education
New York, NY (PRWEB) May 31, 2006
SeniorBridge, the nation's premier provider of services to people with long-term chronic health conditions, presented an Award of Excellence to Kristin Firth. Firth is a graduate student in Social Work at Hunter College. Firth received the $2,000 award at a reception on Wednesday, May 16, 2006.
"Social workers are an integral part of our care management services, and this was a great opportunity for us to work closely with the Hunter School of Social Work and provide support for social work education," said Executive Vice President/Chief Professional Officer Claudia Fine. "SeniorBridge is committed to finding ways to meet all the needs of the aging population, and by supporting education and collaborating with the public, private and not-for-profit arenas, we can continue to dedicate our company to this mission," said Ms. Fine.
Firth, who lives in Brooklyn, New York, was chosen based on academic merit, evaluation of field performance, dedication to the specialization of aging within the field of social work, and a required essay.
Founded in 2000, SeniorBridge is a national provider of customized professional services for clients with complex chronic health conditions. Our unique, integrated system of care addresses the total well-being of our clients and their families through a comprehensive program of care advice, coordination, and advocacy, led by a care manager. Our services are especially beneficial to those with Alzheimer's disease and chronic or multiple illnesses. SeniorBridge has 18 offices throughout the country and serves clients in 10 states.
For more information on SeniorBridge, please visit our web site at http://www.SeniorBridge.net.
###