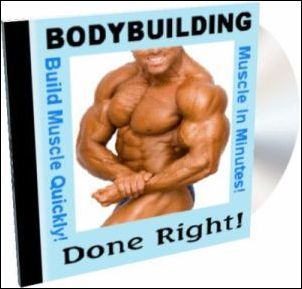 The fact is most people are doing much more than they need to, training incorrectly, and achieving poor results
Beverly Hills, California (PRWEB) May 26, 2006
Millions of frustrated, and confused bodybuilders, lacking results, can immediately turn to Bodybuilding Done Right for a scientifically backed, clear-cut muscle building blueprint which produces results in just minutes a week.
Beverly Hills Exercise Physiologist and bodybuilder, Jim O'Connor became increasing frustrated watching mislead, confused bodybuilders continue to defy the crucial laws of exercise physiology, waste precious time, and complain about their progress to the point of wanting to take steroids. "Enough is enough; they are training the wrong way," said O'Connor. "I must rescue these enthusiasts by creating an information resource revealing the scientifically sound, core success principles of bodybuilding, thus, helping people train smarter naturally, not harder."
Bodybuilding Done Right, a 90 minute downloadable audio file, takes you by the hand and reveals, in simple terms, the scientifically proven, must have bodybuilding workout principles. O'Connor took his twenty three plus years of education, training experience, and diligent study from training along side pro bodybuilders in Venice, California, and shared his most critical findings in his newly released how-to bodybuilding audio.
"Increasing muscle mass quickly is not about how you do a particular exercise, or how long you spend in the gym, but rather, applying effective bodybuilding core principles," O'Connor said.
O'Connor feels bodybuilders should not pick up another weight until they fully understand the principles found in his audio seminar. These scientific breakthrough secrets must be decisively understood prior to hoisting up another weight. Otherwise, there is a very good risk of doing it all wrong, wasting valuable time, and not achieving adequate results.
The ninety minute downloadable audio file, scheduled to be released on May 25, 2006, shows people how to spend less than 20 minutes in the gym per week, and achieve steroid-like results. "The fact is most people are doing much more than they need to, training incorrectly, and achieving poor results," O'Connor stated. "This can all be prevented by bodybuilding smart."
For additional information on his new Bodybuilding Done Right audio, and the blueprint to quick muscle growth training in only minutes per week, contact Jim O'Connor or visit Bodybuilding Done Right. Visitors will receive a FREE copy of Jim's 5 Most Deadly Bodybuilding Mistakes You Must Avoid. Copies of Bodybuilding Done Right can be downloaded instantly at the website.
About Wellness Word, LLC
Wellness Word, LLC is a Beverly Hills health and fitness information publishing and promtion company specializing in newsletters, video, audio, and software development. Its mission is to bridge the gap between science and practice, thus, empowering consumers with the health and fitness truth. Our products will not only improve the health and quality of peoples lives, but motivate them to succeed in doing so. Jim O'Connor is the managing partner, and Chief Exercise Physiologist who has dedicated over 23 years of his life to the education, and practice of health and fitness promotion.
Contact:
Jim O'Connor - Exercise Physiologist
Wellness Word, LLC
1-866-935-5967
http://www.BodybuildingDoneRight.com
###