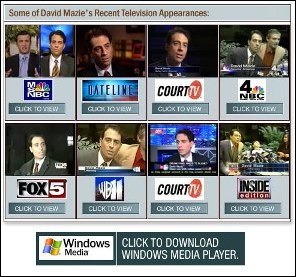 Roseland, NJ (PRWEB) May 30, 2006
New Jersey lawyer David Mazie is pleased to announce the publishing of his new Web site, http://www.mazielaw.com, designed by award winning graphic designer Dan Antonelli of Graphic D-Signs. Mr. Mazie's new cutting edge Web site includes video clips of his numerous television appearances and articles highlighting the many multi-million dollar jury verdicts and settlements that Mr. Mazie has helped his clients achieve over the past several years, including his recent record setting $135 million dollar liquor liability verdict against a Giants Stadium beer vendor which is the largest personal injury jury verdict in New Jersey history.
Mr. Mazie was named New Jersey Lawyer of the Year by the New Jersey Law Journal, and his peers have voted him the top trial lawyer in New Jersey over the past two years as reported in Super Lawyers Magazine and New Jersey Monthly Magazine. Super Lawyers Magazine described Mr. Mazie as a "Warrior" who is "relentless, aggressive and creative".
Mr. Mazie is a certified civil trial attorney, a distinction held by less than two percent of New Jersey attorneys, and a senior partner in Nagel Rice & Mazie which is one of New Jersey's leading trial firms. With seventeen attorneys, the firm specializes in unique and innovative litigation and has truly changed the landscape of New Jersey jurisprudence. The firm's New Jersey attorneys have shaped the law of class actions, commercial litigation, medical malpractice, business torts, personal injury, wrongful birth, trial practice, and consumer fraud.
In addition to handling commercial and business litigation, legal malpractice and class actions, Mr. Mazie has a New Jersey personal injury practice which includes automobile accidents, brain injuries, birth injuries, defective products (products liability), mass tort, medical malpractice, burn injuries, spinal cord injuries, workplace accidents, and wrongful death.
Victims of serious personal injury accidents or family members who have suffered the loss of a loved one are welcome to visit the new and innovative website http://www.mazielaw.com and to contact New Jersey personal injury attorney David Mazie for a free consultation and case review. All personal injury matters are handled on a contingent basis, meaning there is no fee charged to clients unless Mr. Mazie successfully recovers money. Results are not guaranteed and may vary depending upon the particular circumstances.
###