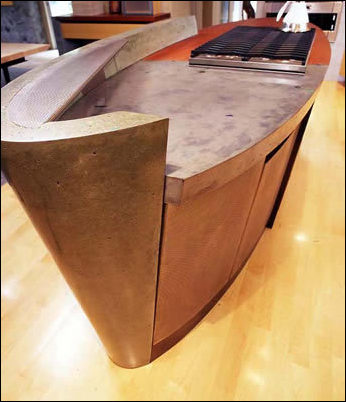 Yucaipa, CA (PRWEB) May 29, 2006
The Concrete Network, the largest and most comprehensive source for residential concrete information on the Web, offers a free downloadable catalog for homeowners, designers, and builders wanting to know more about concrete counter tops. The catalog Concrete Countertops provides an educational overview of what can be expected when building with concrete counter tops, including how concrete counter tops are made, choosing colors, cost, signature details, and maintenance.
Concrete's irresistible appeal can be attributed to its versatility, its look of distinction, its natural qualities, and superior craftsmanship. Concrete can be formed in any shape or size, and can be colored to match nearly any hue. Homeowners particularly find concrete engaging because it can blend with a range of styles, and can be completely personalized. View The Concrete Network's photo gallery of concrete counter tops for more ideas about design and color.
Within the catalog, readers will find specifications about the standard weight and thickness of concrete counter tops, the building and installation process, edging detail, and other available options. Find additional detailed information about all aspects of concrete counter tops on The Concrete Network Web site.
Established in 1999, The Concrete Network's purpose is to educate consumers, builders, and contractors on popular decorative techniques and applications including stamped concrete, stained concrete floors, concrete counter tops, polished concrete, and much more. Over 750,000 visitors research The Concrete Network Web site each month.
The site excels at connecting buyers with local contractors in their area through its Find-A-Contractor service. The service provides visitors with a list of decorative concrete contractors throughout the U.S. and Canada, and is fully searchable by 22 types of decorative concrete work and 198 metropolitan areas throughout North America.
Article photo courtesy of Cheng Design Products Inc. in Berkeley, CA. Attached photos courtesy of Art and Maison Inc. in Miami, FL, and Bradley Hughes in Atlanta, GA.
###