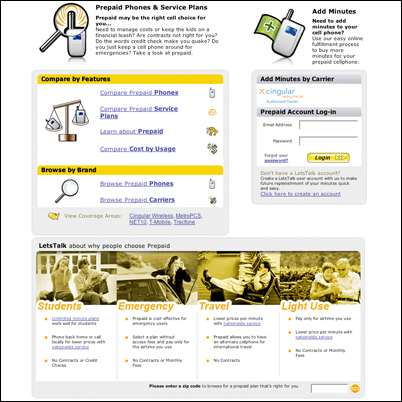 Menlo Park, CA (PRWEB) May 30, 2006
When most people think about choosing a cell phone plan, the first thing that comes to mind is "the contract." But for many Americans trying to keep costs down and still have a cell phone plan that's flexible, a prepaid plan could be just what they need. As providers bolster their prepaid plan offerings and introduce cool cell phones, more and more consumers are discovering prepaid plans and experiencing life without "the contract."
But with a wide variety of new prepaid choices, picking the right one can be confusing for consumers. Delly Tamer, founder and CEO of LetsTalk.com, offers these five helpful hints for those who are considering their options:
-Prepaid makes keeping a cell phone budget easy. Unlike a service contract that will slam you with charges if you go over your minutes, that's not possible with a prepaid plan. You'll simply run out.
-Providers help you keep an eye on your minutes. The downside of avoiding overages is that you can get stuck with no minutes when you need them the most. Your cell phone may not have the ability to track your minutes automatically, but some providers will alert you with a text message when your prepaid minutes are dwindling. Be sure to ask about this feature so you don't get caught by surprise when your minutes run out.
-Prepaid has its perks. A prepaid plan is a great option for consumers who want a cell phone but aren't ready to commit to a monthly bill or for those who don't think they'll make a lot of calls. Another potential benefit to a prepaid cell phone is that you can get started right away without a credit check.
-Ask about features besides voice calls. Prepaid plans come in all shapes and sizes and can include rollover minutes, text messaging, and voicemail. Make sure you're getting the most bang for your prepaid buck by choosing a plan that focuses on the features that are important to you. For example, if making minutes last longer is something you want, find out if you can check cell phone voicemail from a landline phone. This feature will keep you from using up prepaid minutes calling yourself.
-You can still get that cool phone. Unlike in years past, when prepaid plans came with bulky phones that were clearly out of fashion, providers now offer a wide range of cell phones with prepaid plans. You can choose from dozens of powerful, stylish cell phones for your prepaid calls – even the Motorola Razr!
To learn more about prepaid, or to compare plans, visit the comprehensive prepaid section at LetsTalk.com: http://www.letstalk.com/categoryindex/prepaidcategoryindex.htm
Top Prepaid Plans on LetsTalk.com:
-MetroPCS $40 Unlimited Local and Long Distance
-T-Mobile Pay As You Go Service
-Cingular Pay As You Go w/ Unlimited Mobile to Mobile
LetsTalk.com – the smarter way to buy a cell phone
LetsTalk is a leading online retailer of cell phones, wireless devices and service plans. LetsTalk helps consumers research, compare and purchase cell phones and service plans in a user-friendly environment free from bias and sales pressure. LetsTalk is based in San Francisco and was founded in July of 1999.
###