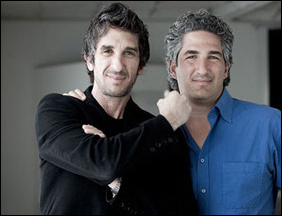 Beverly Hills, CA (PRWEB) May 28, 2006
Beverly Hills hometown sensations Dean and Davis Factor, the great-grandsons of makeup legend Max Factor, sit down with Beverly Hills People to discuss their company, SmashBox Photo Studios and Cosmetics.
Braving the comings and goings of the celebrity and fashion crowd, Dean and Davis tell how they keep their cosmetics line ahead of the trends.
Launched in the fall of 1996, SmashBox Studio Cosmetics lists Dean as the company president while Davis serves as creative director. Like Max Factor cosmetics, SmashBox reflects the Factors' passion for making the world a more beautiful place for general consumers as well for Hollywood celebrities.
The story of the Factor family and their cosmetics empire reads like the All-American success tale of the 20th century. Starting as a small family business that catered to the feature film industry in the early 1900's, the Factor name expanded with the emerging motion picture medium. After Max Factor products were established in every actress's daily routine by the mid-1920s, Factor products soon were discovered by women across America.
Beverly Hills People details the current goals and vision of the next generation of the first family of makeup. Visitors are invited to read the full story themselves at Beverly Hills People.
###