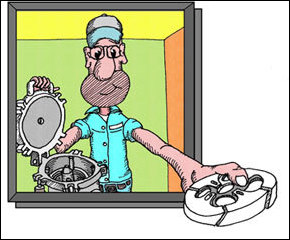 Portage, MI (PRWEB) June 15, 2006
Therefore, please refer to this short Filtration 101 reference material that outlines how to select the correct filter -- that you can reference when all else fails. Or better yet, before all else fails. A pro-active approach is always better, however could-a, would-a, should-a has no place here. We're here to learn!
To begin, Selecting filtration equipment is the combined result of many considerations. In addition to removing the undesirable material from a liquid stream, the filtration method selected must also satisfy other requirements.
Initial capital cost must be weighed against operating costs.
Environmental issues along with waste disposal costs must be considered.
Is continuous flow a requirement of the application, or can the filtration equipment be operated intermittently?
Safety! Will your employees be exposed to the process liquid during operation or when cleaning or replacing the filter media?
These and other factors must be weighed when selecting the right filtration method for an application.
The products being removed from a liquid process stream are as widely variable as the types of filters designed to remove them.
Products being removed in potable water treatment applications are often molecular in size. However, many other filtration applications are concerned with the removal of specific trace solids from a liquid process stream. Surface-type filters using fibrous cartridges of mesh screens made of woven wire or fabric are often used in these applications.
The following analysis will focus on the removal of these trace solids that typically are in the range of 1 Um to 300 Um, rather than the entire scope of liquid filtration.
Filtration Methods:
There are three basic filter types to consider when specifying a liquid processing filter:
Bag filters
Cartridge filters
Self-cleaning filters
Each one has advantages and disadvantages when compared with the others, and the different types are appropriate for different applications.
Self-Cleaning filters are typically most appropriate for applications where:
Flow rates are high
Filter media replacement costs are high
Exposure of the process liquid to workers or the environment is undesirable.
They can be used to remove suspended solids of approximately one micron and larger from all types of liquid process streams.
Bag and Cartridge filters can both remove suspended solids for applications with lower flow rates, where:
Capital costs outweigh the concerns of the ongoing costs associated with disposable filter media.
Exposure to the process liquid is not a problem
Lower volumes of solids must be removed.
Bag and Cartridge filters are roughly equivalent in price. And, although Self-Cleaning filters/CIP systems tend to be more cost initially, the return on investment (ROI) is typically within one year. And better yet, the ongoing cost of these filters is nominal, if any. Consequently, users should consider the total operating costs of the filtration system, not merely the initial purchase price. Media replacement, disposal costs, labor costs, and downtime should all be included when evaluating filtration systems.
Factors to Consider:
When selecting a filter for a particular application, the following criteria should be considered:
How large is the process volume? What is the flow rate?
Is it a continuous or batch process?
What are the material characteristics of the solids being removed? Such as:
How large are the particles?
Is the material hazardous?
Can the material being removed be recycled back into the process stream at another point?
What are the waste disposal costs? Such as:
How often do bags or cartridges need to be replaced?
Can the waste volume be reduced or eliminated by switching to an automatic, self cleaning filter?
What are the labor and downtime costs for filter or cartridge replacement? Such as:
Can production rates be increased by switching to a different filtration method?
Important:
Once determined which filter would work best for your application, it is important to keep in the forefront the need to maintain the integrity of your CIP fluids. In addition, it is important to catch the unwanted particles at the beginning of the process. Therefore, a lesser known tactic is to filter the raw material before it goes into your facility.
Yes, filter the product as the are coming out of the raw material tanks.
If this is done several things most likely will happen. First, you will be able to catch particles that have no business being in your product stream. How did they get there? Many times the source of this material is actually Your Source. The unwanted particles that are within your raw materials are the ones that are created during transport of the fluids.
Yes, transport on the way to your facility.
Therefore, if you are able to catch this unwanted material from the beginning, you can go back to your raw material Source and fix the Cause. This way you will not be on the Re-active end of the spectrum. You will be on the Pro-active side -- which is dealing with the Cause rather than the Symptom. And, you will be able to maintain the effectiveness of your beginning raw materials and the end-product.
by Ask Filter Man
If you would like to discuss this with one of our highly-trained Applications Specialists, please Contact Us at http://www.ronningen-petter.com/ContactUs/Contact-Us-Treating.asp.
If you would like to read more published real-world documented case studies about how our industrial filters have helped customers improve their bottom line, please visit the Where in the World is Ask Filter Man forum at http://www.ronningen-petter.com/Where-In-The-World-Is-Ask-Filter-Man.asp
# # #