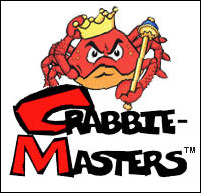 At least it gives us a feeling that we're on the right track. We've always known The Crabbies look cool to the kids and we all know we can
Minneapolis, MN (PRWEB) June 1, 2006
This is much appreciated recognition for Becky Undlin, the creator of CrabbieMasters, "My lifelong dream was always to be a teacher and I absolutely loved working with children in elementary school. Now, it's great to see that The Crabbies and related ideas that I originally came up with for preschoolers are being seen as beneficial for other teachers too."
It's not just for teachers though. Other adults too – parents, daycare providers, home schoolers – anyone working with young children can benefit from learning about The Crabbies. For the uninitiated, The Crabbies are an irksome band of eight…actually The Eight Most Wanted…Crabbies – imaginary, fun and colorful characters that just love to try to sneak in and ruin a group of kids (and adults) perfectly fine day. The great part is that for kids (and adults) in the know, they just love to stop them right in their claw-tracks because they've already learned how to "BEAT The Crabbies!" and "Turn their day around!"
For the summer, Undlin uses CrabbieMasters and a leadership program she calls Kids-In-Charge with the older school age children who come back during summers. Undlin thinks these would be great resources for families over the summer too. If anyone ever has questions on anything there are discussion forums and Undlin is happy to answer email too.
Awards like this are really great says Undlin. "At least it gives us a feeling that we're on the right track. We've always known The Crabbies look cool to the kids and we all know we can "BEAT The Crabbies!" virtually any day of the week. Every child in my preschool for almost twenty years has loved them. But we had no idea if we could get the word out with a website and make it good enough for other people to relate to." Undlin says she is glad there are people out there like The Teacher's Corner who take the time to evaluate resources and let others know what they think. Because of them, people can find out about things they never would have heard of.
Other recognition since launching http://www.crabbiemasters.com a few months ago includes:
For a complete list check out http://crabbiemasters.com/phpBB2/
At this point, there's only one major problem – like the proverbial "better mousetrap" – no one knows how great it is until the word gets out.
"No one" might be a bit of an overstatement though. In just four months CrabbieMasters has had over 6,000 visits and many come back repeatedly. But, as Undlin puts it, "We just know that there are literally millions of people who could really enjoy teaching their children how to Beat The Crabbies. Plus, the website includes many other early child development skills I've learned to teach young children over the years."
For the record, CrabbieMasters includes a large section on advanced skills called "Beyond The Crabbies" that can be used to teach young children about using good behavior skills, how to have good attitudes, how to work well with others, how to be a good leader, and more. These teachings, supported by concepts that have been proven in Undlin's preschool for many years, include U.L.T.I.M.A.T.E. Skills (Understanding, Listening, Teamwork…), becoming WiseOnes, Kids-In-Charge and the like.
Michael Undlin
CrabbieMasters
(612) 309-6548
###