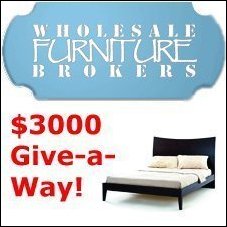 We're excited to see how creative everyone is going to be in their campaigns
Torrance, CA (PRWEB) June 1, 2006 –
Wholesale Furniture Brokers (WFB) offers anyone online the opportunity to advertise WFB on their website and compete for the Grand Prize of $3000 in furniture. Use whatever fun, zany (or downright serious) techniques you want, as long as there is a simple link back to the WFB website. It's as simple as that! The contest runs from June 1 to August 31st, allowing everyone sufficient time to use a variety of creative online marketing techniques. "I think this is an exciting new way for WFB to share the creative advertising talents of Webmasters, Bloggers, and SEO Marketers. With the advertising help of the entire internet community, WFB could soon be a household name as they continue to lead the online furniture store market." says marketing director Matt Holmes.
Who can enter this contest? Holmes answers, "Anyone can compete as long as they own a domain, blog or forum. While the contest is basically open to everyone, certain sites are not eligible: search engines, WFB's paid directory listings, and sites that use any kind of illegitimate methods to generate traffic."
"We're excited to see how creative everyone is going to be in their campaigns," adds Jeff Penner, WFB Sales Manager, "this is a unique opportunity to test out various forms of advertising that we may have never come up with on our own. Maybe we will learn new things we can do with our own furniture blog that we didn't know we could do." He adds that not only is the $3,000 grand prize terrific on it's own but it's also transferable and can be sent to any friend or family member as a gift across the country!
WFB has created a contest page ( http://www.GoWFB.com/contest.php ) for participants who want to know more details or register for this online contest. While registration is not required, sign-up is recommended in order to receive updates on the top 10 leaders and the winner of the contest.
Wholesale Furniture Brokers is an expanding network of furniture stores that exist to offer shoppers an easier, stress-free alternative to high-cost retail shopping. Starting in 2002 with just a few outlets in the United States, Wholesale Furniture Brokers has branched coast to coast with 45 affiliate outlets, including new furniture stores in Canada. Their website started a Click-and-Mortar revolution in the industry offering a simple online shopping experience mixed with local, personalized service. Having quickly climbed to the top of the charts on the most widely used search engines including Yahoo, MSN and Google, Wholesale Furniture Brokers has become a popular shopping destination for furniture online from hot platform beds in their bedroom furniture gallery to a wide selection of contemporary furniture in their dining room furniture and living room furniture galleries. Their main website is user friendly, has an impressive selection of wholesale furniture, and has some terrific customer service options.
###