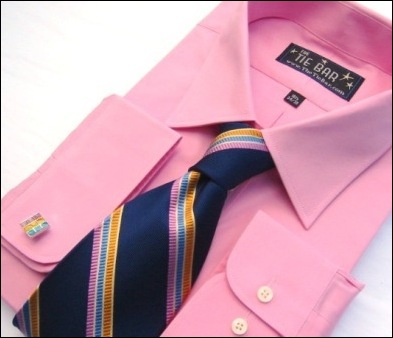 It's the next logical step, but let's handle one thing at a time.
Chicago, IL (PRWEB) June 1, 2006
It was only a matter of time. Not even two years old, up-and –coming neckwear designer The Tie Bar has expanded its product line yet again. First, it was silk ties. Then silk pocket squares. Then cufflinks. And now, just in time for Father's Day, the Illinois-based company has taken on a whole new world by introducing its first line of 100% cotton men's dress shirts.
"Moving into dress shirts wasn't even our idea," explained Greg Shugar, president of TheTieBar.com. "We have a large core group of loyal customers who have been asking us to start making affordable dress shirts. It seems to be an obvious extension of our neckwear, we went with it."
Shugar held off on rushing the dress shirts into his e-store until the sizing and quality of the dress shirts were just right. "Our customers are stylish, but not risk takers. So we started with some of the basic solid colors, and we had our tailor ensure that the dress shirts will have a 'classic fit'. While GQ tells us that the slim look is in, our customers tell us different."
TheTieBar.com's original business idea – offering 100% silk neckties at a fraction of what men are used to paying – naturally bled into its pricing for dress shirts. With silk ties selling at just $15.00 each, TheTieBar.com sells its line of 100% cotton dress shirts for only $25.00 each. And each dress shirt contains a unique style of convertible cuffs, which means men can either button their cuffs together, or they can use cufflinks instead.
With the trend in corporate America moving away from business casual, TheTieBar.com has continued to capitalize on men's ongoing issue with overpaying for their business attire. Perhaps TheTieBar.com's next move will be men's suits. "It's the next logical step, but let's handle one thing at a time." Shugar concluded.
# # #