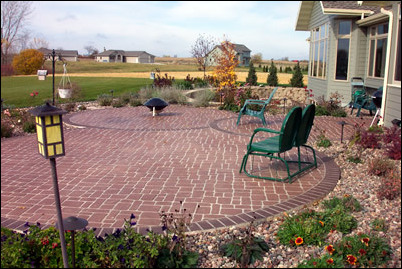 Yucaipa, CA (PRWEB) June 2, 2006 –-
The Concrete Network, the largest and most comprehensive source for concrete information, offers an online decorative concrete patio photo gallery filled with a collection of photos offering a multitude of design ideas on enhancing your patio from ordinary to extraordinary using decorative concrete techniques.
The process of choosing the perfect concrete patio to accent your home and landscape is often time consuming and tedious. Several factors come into play including choosing a style, size, building material, and much more. For these reasons it is important to explore all of the choices available when it comes time to build. Today, the concrete choice has expanded to include a wide variety of decorative concrete options, some of which are sure to fit your needs.
The decorative options for concrete patios are no doubt endless, and can be designed to be great entertaining areas. With the simple addition of a stamp pattern, resembling expensive stone, brick, tile, flagstone or slate patterns, the patio is transformed into a beautiful work of art. Custom colors and stains can also be applied to add character and complement the exterior stucco and other elements of the home.
Concrete patios offer long lasting durability, are versatile and require low maintenance and are the perfect option for withstanding outdoor weather. Many of the works in these photos can be replicated and/or tailored to meet the needs of the individual, the home, and space restrictions.
The concrete photo gallery is updated every Friday offering new photos of custom and unique designs and applications. Photos for the photo gallery have been collected from contractors around the country and are for design idea purposes only.
Established in 1999, The Concrete Network's purpose is to educate consumers, builders, and contractors on popular decorative techniques and applications including stamped concrete, stained concrete floors, concrete countertops, polished concrete, and much more. Over 750,000 visitors research The Concrete Network Web site each month.
The site excels at connecting buyers with local contractors in their area through its Find-A-Contractor service. The service provides visitors with a list of decorative concrete contractors throughout the U.S. and Canada, and is fully searchable by 22 types of decorative concrete work and 198 metropolitan areas throughout North America.
News release image courtesy of Stecker Construction LLC. Photos courtesy of Brickform Rafco Products and L.L. Geans Construction Co.
###