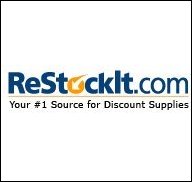 Entrepreneur Magazine's Hot 100 List.
(PRWEB) June 1, 2006
ReStockIt.com, a leading online source for restaurant supplies, janitorial supplies and office supplies based in Hollywood, Florida, is celebrating double honors this week after being named to both the "Internet Retailer Top 500 Guide" and "Entrepreneur Magazine's Hot 100 List."
With 390% growth from 2004 to 2005, ReStockIt.com was named the 3rd fastest growing retail website in the country by "Internet Retailer Magazine," behind Blockbuster.com and theinsidestore.com. ReStockIt.com boasted sales of $5.52 million in 2005 thereby earning the #467 spot on the "Internet Retailer Top 500 Guide" listing the 500 largest retail websites in the country.
In addition, "Entrepreneur Magazine" chose ReStockIt.com from over 27,000 eligible companies and placed them at #57 on their 12th Annual Hot 100 list of America's Fastest-Growing New Businesses.
The ReStockIt.com story – After selling a successful business in the Promotional Products industry, founders Matt Kuttler and David Redlich set out to find a new business opportunity. In 2004 their research led them straight to the wide open plains of internet shopping and they hitched their wagon to the vastly uncharted and underdeveloped Restaurant Supplies and Janitorial Supplies niche. Today ReStockIt.com is a robust online marketplace with over 60,000 restaurant supply, janitorial supply and office supply products. Nurtured by a lean, focused staff of 11 full-time employees, ReStockIt.com is on target to do $9M in sales in 2006.
Entrepreneur Magazine Hot 100 - To be considered for the list, businesses must meet the following criteria: they must have been founded no earlier than 2001; the founder must be actively involved in daily operations and have a controlling interest in the business; 2005 sales must have been at least $1 million; and they must have fewer than 1,000 employees.
Internet Retailer Top 500 Guide – Now in its third year, the 2006-07 Edition of the Top 500 Guide is the definitive ranking and analysis of America's 500 largest e-retailers based on their annual sales on the web. From the publishers of Internet Retailer, the leading information provider for the e-retailing industry, this all new Top 500 Guide provides the very latest competitive data on the leaders of web-based retailing who account for two-thirds of all U.S. retail sales on the Internet.
Contact ReStockIt.com – ReStockIt.com your online source for restaurant supplies is based in Hollywood, FL. For more information visit http://www.ReStockIt.com or contact Matt Kuttler at 800-680-0859, x 211.
# # #