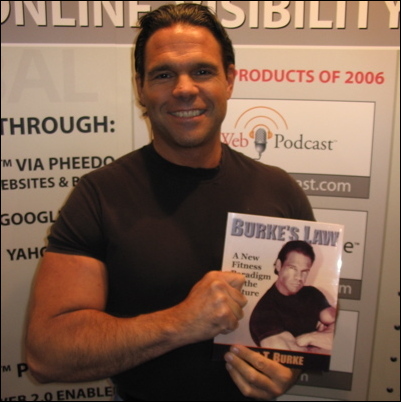 Spencer, MA (PRWEB) June 1, 2006
Having recently presented his book "Burke's Law: A New Fitness Paradigm for the Mature Male" at the Washington, D.C. BookExpo America, author Paul Burke is experiencing critical success with his first book title. In his book, Burke makes the very persuasive case for changing the "old fitness training paradigm" to one that he has termed, "Burke's Law," allowing each person to find their own set of "bio-mechanically perfect exercises" while trying best to eat like their Paleolithic ancestors.
"Burke's Law" is everything that every other book about training and dieting for muscle is not. Burke challenged himself to have the best body he could have for the longest time. He is now fifty, and as most have said quite frankly, "looks at least a decade younger." And, if that were not enough, Burke has developed a quantified formula that each person must understand and then take their own muscular/skeletal dimensions and plug them into "Burke's Law" so they too can have a body at 50 or 60 that looks 10 to 20 years younger.
Thus far, everyone who has read his book, including scientists, authors, bodybuilders, book critics, doctors and men who are determined to give the weights one last go, has given it the stamp of approval.
Dr. Barry Sears, of "The Zone" fame, says, "Paul Burke has mastered the understanding that a great-looking body for the mature male is a combination of intelligent training coupled with an equally intelligent diet. Even more impressive is that he has maintained his great physique in the face of a chronic disease that would leave many resigned to a life of inactivity. If you follow his training and dietary rules, the results will be very impressive."
A life-long champion body builder, academic professor, arm wrestler and actor, Paul Burke was diagnosed with MS (Multiple Sclerosis) in 1995 while training Bill Koch and his America's Cup Team. Burke says that MS was the driving force behind his own training paradigm shift and the beginning of a long, arduous road back to healing, along the way becoming one of the world's most respected writers for men over 40. Having been the Over 40 editor for numerous publications including Exercise for Men Only, Men's Exercise, and Natural Body Building & Fitness, Paul has had a loyal following for over 12 years. Now, he would like to see that readership grow even larger with the publication of his first book.
According to Paul Burke, "I wanted to write a book that would go down in history as something that the public would resort back to, over and over, in order to understand what it is, in detail, that a person has to do to optimize his body without the use of steroids. In a way, everything that I know from all my years of training and research is in this book, and, if you, the average aging man, cannot maximize your body's potential with this wisdom, then you will never build a great physique. That is how confident I am about it."
"Burke's Law" is the book that every "mature man" has been waiting for. It literally unlocks the truth of how to reach muscular best at midlife. It is a history lesson on bodybuilding and human dietary evolution. It is a lesson in bio-mechanical training for body building with weights, and it allows the reader to identify his own most "leverage advantageous" exercises for maximum muscular stimulation. The book covers everything from how to train with spinal deformities to the lineage of the advent of plant and animal domestication and how this lineage changed the course of human evolution.
"Burke's Law" is a book that every man should be excited about because it comes from a man who was not genetically gifted and lives with a chronic disease that most doctors agree should have crippled Burke years ago. Yet from all this, Burke gives the reader such insight, such valuable information that many are calling the book "groundbreaking" and "genius."
About Paul Burke
Paul Burke received his Master's Degree in Integrated Studies from Cambridge College in Cambridge, Massachusetts. His life-long experience as a champion bodybuilder, arm wrestler, actor and academic professor brought him to write a very detailed book about exercise, fitness and nutrition for the mature male. For more information, visit http://www.PaulBurkeFitness.com.
"Burke's Law: A New Fitness Paradigm for the Mature Male," (Trafford Publishing, 2005) is available at http://www.PaulBurkeFitness.com and other online book retailers.
Contact Information:
Paul Burke
800-810-3010
# # #