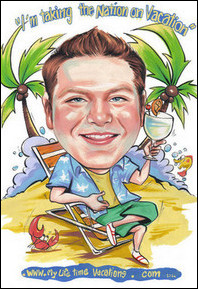 this is my full time business and I take it very seriously.
Goodlettsville, TN (PRWEB) June 6, 2006
Jay NaPier, former restaurant franchise owner recently shared these and other answers in a recent teleseminar he hosted for people considering Coastal Vacations as a career option.
NaPier, the most respected Coastal Vacations Director has been exposing mis-information about Coastal. NaPier takes several calls a week from people who want answers, but they want the "Right" answer.
NaPier's recent eye opening press release "Coastal Vacations Director Jay NaPier Exposes Coastal Vacations Scam Artists" has saved hundreds of members from making a mistake when it comes to choosing a Coastal Director and suggests reading it when considering Coastal Vacations.
http://pdfserver.prweb.com/pdfdownload/372709/pr.pdf
We heard caller, Chip ask "A director told me his staff would work for me, then ate his own words by saying his training would teach me how to make calls and sell memberships for $1995, do I really need to be overcharged for the Coastal Membership?"
NaPier answered the question by saying "This business has a Proven System that works, there are directors who have tried outsourcing their business, but because the system didn't work, they are trying to correct the problem by offering unqualified training and support."
John shared that he had a similar expirence and asked, "Aren't these directors sticking their foot in their mouth?" Napier laughed, then said "Top Coastal Directors are laughing, seeing them eat their words."
NaPier has over 17 years of self employment expirence and shared that the proven track record offered by traditional Coastal Directors has been successful for over 11 years.
NaPier chose Coastal because of the proven track record, the travel values offered by Coastal and because his expirence as a homebusiness consultant.
NaPier warned that there are directors who will hide behind websites, call centers, voice mail and conference calls. NaPier takes pride is sharing that he personally answers his phone and often finds himself in unusual places speaking with clients.
NaPier mentioned that he recently helped a member get started on a second grade school field trip with his daughter. He said, "this is my full time business and I take it very seriously."
Napier explained that business success in a home-based business is about relationships. He personally trains his team members because he knows that people are looking to be successful in their new business and want a personal relationship with their director.
NaPier shared that his clients trust him because he makes himself available on their schedule.
NaPier travels the country to meet with his team members because he cares about their success. A recent trip to Pennsylvania is just one of several trip he'll make this year to insure his team members success.
NaPier runs his business in accordance with the Official Coastal Vacations business structure and has committed to operate his business with writen ethical business standards.
NaPier uses a system that utilizes print, Live conference, teleseminar, and audio/video training. NaPier's team uses a $100,000+ Business Development Center that does 95% of the work for them.
NaPier shared that he is honored to be the Coastal Vacations Director who is setting the standard in the business. NaPier watches as other directors change to appear more like him because they know of his success, but their passive attitude does not provide the critical foundation needed for success. They do not have the proven track record.
Potential Members can get NaPier's often copied report: 27.5 Questions to ask before picking a Coastal Director at http://www.GuaranteedCoastalIncome.com
The most frequently answer questions about Coastal Vacations can be answered at http://coastalvacationsdirector.blogspot.com/
Additional Information about Coastal Vacations Can be Found at: http://www.MyLifetimeVacations.net
Contact Information:
Jay NaPier
NaPier Marketing Group, International
615-573-2536 Direct
1006 Bobby Ct West
Goodlettsville, Tennessee 37072
# # #