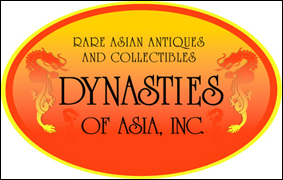 Fort Lauderdale, FL (PRWEB) June 5, 2006
Dynasties of Asia, a newly-formed Asian art gallery in Fort Lauderdale, FL, is having its grand opening on Friday June 9, 2006, from 6-10 pm. The newly-formed private marketplace of museum-quality Asian antiques and artifacts, is valuable gallery for distinguished collectors and interior designers all over the globe.
Dynasties of Asia is located at 915 NE 3rd Avenue in Fort Lauderdale, Florida. The gallery possesses a variety of period furnishings, rugs, pottery, and art, primarily from China. The age range of the pieces is from modern to more than 6500 years old.
The gallery's owners, Brian Kelley and Del Strahm, will host cocktails and hors D'oeuvres during this event. They ask that you join them. To do so, please log on to http://www.dynastiesofasia.com/guests to reserve and get driving directions.
http://www.dynastiesofasia.com
###