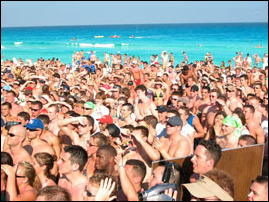 Peabody, MA (PRWEB) June 2, 2006
GradCity.com, the nation's leader in student travel, continues its advancements in parent approval by encouraging parents to accompany their students on their graduation trip to hot destinations. With thousands of teenagers traveling to Jamaica, Mexico, and the Bahamas, GradCity.com understands uncertainty felt by thousands of parents and has developed an entire program specifically for them. Parents are given full access to their student's GradCity.com trip through the GradCity.com Web site, are sent reminders via e-mail and are given discounts for accommodating their teenager along their trip.
"GradCity.com prides itself on having the most consumer protection in the industry. Student safety will always be our number one priority," said Joe Bush, Vice President of GradCity.com. "We are encouraging parents to celebrate graduation with their teenagers by offering discounts on neighboring hotels and accommodations. We not only want to offer students the entire high school graduation experience, but ease the minds of the parents by offering them a great vacation time as well." GradCity.com is the only student tour operator offering family and faculty hotels.
Parents choosing not to accommodate their teenagers can still ensure their safety, as GradCity staff are present at check-in, welcome orientations and provide a 24-hour staff room available to students. GradCity.com also has the highest staff to student ratio in all of the young adult travel industry. Account information is available at all hours on GradCity.com including checking account balances and printing travel vouchers.
GradCity will continue their leaps with student safety and community involvement. A percentage of every trip booked through GradCity.com goes towards their Senior Scholarship fund to assist with college plans for outstanding seniors. GradCity.com offers destinations to Panama City, Cabo San Lucas, Nassau, South Padre Island, Universal Studios, Negril and more for parents looking to give the ultimate gift for their high school student's graduation.
For more information or to book a graduation trip visit gradcity.com.
About GradCity.com
GradCity.com is the high school division of StudentCity.com, the nation's leading company in student travel. Our travel professionals have successfully operated tours to the Caribbean, Mexico and Florida since 1987. Our accreditations include the Better Business Bureau Care Program, American Society of Travel Agents TOP, National Tour Association, International Airlines Travel Agent Network, $950,000 Consumer Protection DOT Bond, and $10,000,000 Professional Liability Insurance.
# # #