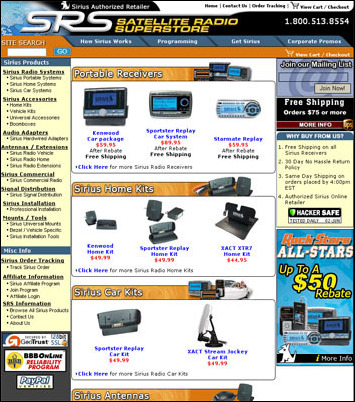 Our goal is to be the lead satellite radio retailer by offering our customers the best possible shopping experience.
Winter Park, FL (PRWEB) June 5, 2006 -—
Satellite radio can be very confusing. Home kits, portable systems, accessories, mounts, extensions, and more. With so many products to choose from, how does one decide? With some guided help. That's what the people behind the new website, Sirius-radio-satellite.com, will say. And they are prepared to help in any way they can.
This latest satellite radio website is looking to beat its competitors by helping their customers make informed and ultimately satisfying purchases. They have a trained USA call center that is specifically knowledgeable in every aspect of satellite radio. This includes installation and both commercial and product applications, which takes the guesswork out of buying satellite radio.
This Sirius equipment is not just one department in a large company, the entire organization only sells satellite radio items to ensure that they remain focused on their product line. Owner Matt Moffett sees this as a particularly important aspect for his company, "The Satellite Radio Superstore is a leader in the satellite radio industry offering exceptional customer service and support. We pride ourselves on our deep knowledge of all satellite radio products and accessories and strive to provide each customer with the knowledge needed to make an educated and satisfying purchase. At the Satellite Radio Superstore, we sell 100% satellite radio products, giving us a clear advantage over multi-product competition."
Not only is the staff extremely knowledgeable and willing to answer any questions, but the new website even offers tutorial videos on how to install the products. As Moffett points out, "Our goal is to be the lead satellite radio retailer by offering our customers the best possible shopping experience."
Another point of note is that the Sirius radio items purchased from their website come from the thousands of items that they store in their warehouse. Most of their competitors sell their products as a "middle man" between the customer and the actual warehouse that has the items. The fact that Sirius-radio-satellite.com sells products that they store in their own warehouse means that actual inventory can be calculated to ensure that a consumer receives exactly what they ordered online.
Sirius Satellite Radio offers 100% commercial free programming to millions of listeners. They are the leading sports programming provider and have over 125 different channels for listeners to choose from. Along with just about every type of music you could think of, Sirius also has dedicated channels for news, entertainment, weather, and talk radio.
For more information on products for Sirius radio, please visit Sirius-radio-satellite.com.
About Satellite Radio Superstore:
Owner and President Matt Moffett is a graduate of the University of Central Florida with a degree in Finance. He has been in the satellite business since 1999 and founded Satellite Radio Superstore in 2003.
###