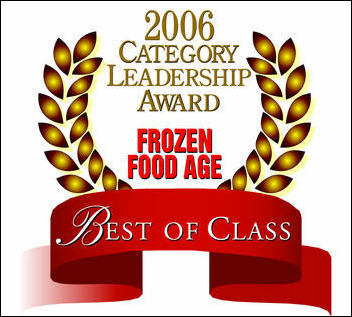 This award culminates months of hard work by our brand teams and it is very much appreciated. We've successfully introduced several new products under our flagship brands and we've worked especially hard to help our retailers boost volume
Chicago, IL (PRWEB) June 6, 2006
Schwan's Bakery, Inc., #1 in U.S. frozen pies, received the 2006 Category Leadership Best of Class award from Frozen Food Age and Information Resources, Inc. Schwan's, makers of top-selling Mrs. Smith's® and Edwards® gourmet desserts, which ranks #2, won the frozen pie category.
The award was presented during the 3rd Annual Awards Banquet at the recent Food Marketing Institute (FMI) Convention in Chicago. Schwan's Bakery was represented by Jim O'Sullivan, Sr. Vice President/General Manager and Bob Trombino, Sr. Director of Marketing & Category Leadership.
"This award culminates months of hard work by our brand teams and it is very much appreciated. We've successfully introduced several new products under our flagship brands and we've worked especially hard to help our retailers boost volume," O'Sullivan said. "Specifically, we've re-designed packaging to make brands easier to shop, pushed clean segment blocks, introduced more single-serving, better-for-you, portion-control choices which are bringing new consumers to the category and pushed an aggressive, integrated marketing mix to drive customer trial and trust."
The 2006 awards spanned 37 frozen food categories and 11 refrigerated food categories. Recipients were recognized for their proactive retailer relations and for success in driving category sales and volume in their markets. Schwan's Bakery has added 13 new desserts to its line. Mrs. Smith's® introduced six products – Deep Dish Berry Burst Pie, three desserts co-branded with Cinnabon® — Coffee Cake, Coffee Cake with Pecans, and Apple Crumb Pie – and two fruit pie slices sweetened with Splenda®: Apple and Mixed Berry. New products also include three Edwards® pies: Coconut Crème, Banana Crème, and Tropical Pineapple Crème; two Edwards® cakes: Hershey's® Chocolate Cake topped with Mini Kisses and Mounds® Chocolate Coconut Cake; and two Edwards® crème pie slices: Nestle Crunch and Butterfinger®.
"Slices have been strong for us and big for the category overall. Retailers recognize that Schwan's desserts are satisfying the needs of households large and small. And our focus on everyday opportunities, product variety, convenience and indulgence in moderation, is working well," explained Trombino. "In recent months we have launched some exciting co-branded desserts, several with mix-in candies --- Splenda sweetener, Butterfinger, Hershey's, Cinnabon and Mounds are among the most popular and distinctive tastes in America and they have certainly helped boost sales. And our classics, such as Key Lime and Apple Pie, are constantly in demand."
Based in Suwanee, Georgia, Schwan's Bakery won 11 blue ribbons between its Mrs. Smith's® and Edwards® brands at the American Pie Council's National Pie Championship last month. Mrs. Smith's® was founded in the early 1900s and today the brand is an American icon, best known for its high-quality ingredients and home-baked taste. The Edwards Baking Company was established in 1950 by namesake Tom Edwards as a small retail bakeshop in Atlanta, Georgia. Edwards® gourmet desserts are now in grocer's freezers nationwide.
For more information visit http://www.edwardsbaking.com or http://www.mrssmiths.com.
Contact:
Deb McGhee Speights
Veux Marketing, Inc.
404-975-4881
###