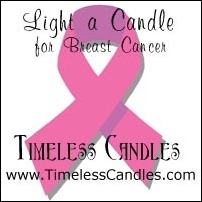 Portland, OR (PRWEB) June 7, 2006
There may be nothing new about companies giving money to good causes, but a new candle company is making it such a high priority that company owners plan to spend their first week in business just making money to give away to breast cancer research. From a profit-taking standpoint, the decision may not make much sense, but the individuals at Timeless Candles believe that there are more important things in life than squeezing every possible cent of profit from what they do.
When co-owner Mary Richardson was asked why the company is donating all first week profits to finding a cure for breast cancer she replied, "We're about family and friends. If you're not providing value to your customers and employees, if you're not giving back to the community, what's the point of being in business at all?"
American companies have a solid history of giving to charity. In fact, according to a report published earlier this year by The Conference Board, giving by US companies added up to $6.29 billion in 2004. While it is not yet known how much money was given to charities in 2005, the 2004 figure was up significantly from 2003. Typically, the giving of larger companies with foundations is more closely tracked than that of small companies, however, a study conducted by the Better Business Bureau Wise Giving Alliance found that 91% of small businesses in the US support charities to some extent
About where they came up with the idea of giving away 100% of their first week profits to breast cancer research Richardson has said, "Anita Roddick, the founder of the Body Shop, is a personal heroine of mine. We've also been inspired by the work of other great philanthropic companies like Newman's Own and Give Something Back, both of which give 100% of their profits to charity." Richardson stated, "We can't do this every day of our business, but we hope this is just the beginning and we see it as the first step to a permanent program of giving back." Asked if she would like to see more online companies working in similar ways Richardson responded, "You bet. We would love it if we started seeing more and more companies coming up with creative ways to do good works through their businesses."
Individuals interested in helping Timeless Candles raise money for breast cancer research can spread the word to family and friends by e-mailing them this link: http://www.timelesscandles.com, and letting them know that all proceeds from the first week, from June 30th through July 7th, will be donated to help fight breast cancer.
Contact:
Mary Richardson
1-800-658-1917
# # #