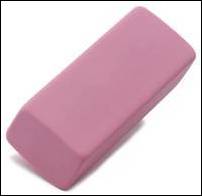 No Parent Held Accountable: Plus 45 Other Reasons Why Public Schools Struggle.
Moreno Valley, CA (PRWEB) June 6, 2006
High school teacher, author, and anti-No Child Left Behind activist Debra Craig has been so encouraged by the initial launch of her "Million Erasers" campaign, that she is expanding it by adding a "Screw NCLB" message. "I'm stepping up the intensity a notch with this new campaign because I'm just so angry that many in the media continue to believe the rhetoric from the government that No Child Left Behind is this panacea for public education. It is not! It is just an insane piece of legislation, a mistake, and must be erased from our public schools! If left in place for long, I'm also worried it will screw up public schools even more than it already has, thus explaining the idea of sending screws."
"Forget about it not being funded correctly. Forget about the "highly qualified" teachers. I work at a low, socio-economic school. I know firsthand what public schools are up against. Just like in life there are loser adults, well I have news for the government: those loser adults were probably loser students who once attended public schools and just didn't care about an education. Yes teachers should try to motivate these students, but we're not miracles workers. Yet the government continues their mantra that "No Child can be Left Behind and teachers are solely responsible? Wrong! Parents and students must be held accountable as well!!! It is only fair."
In fact, that subject has been the inspiration for Debra's second book which should be out late this fall called, "No Parent Held Accountable: Plus 45 Other Reasons Why Public Schools Struggle." Like her successful first book, Why Is the Teacher's Butt So Big? Plus 111 Other Mysteries of Public Education, her new book will also help educate the public on why No Child Left Behind is bad for public schools as well as enlighten people on what our schools should be focusing on.
"I want to make one thing clear. I'm not saying get rid of accountability or standardized tests altogether because both have their place in public schools. But schools need to worry less about what a student's standardized test score is in math and English is and more about what MSN educational columnist Tamim Ansary wrote about in his column called "A National School System." He stated that for us "to compete in this world, our country needs (and has) the dynamic creativity to invent, initiate, explore. Let's not lose that. Our schools must keep nurturing inventiveness. If they do, we'll change the world--in unpredictable ways that will make many of our current skills obsolete."
"Yes, exactly!" comments Debra. "And we're not going to get inventiveness with students just being taught to pass tests."
"In addition, we now have the hindsight that George Bush's legacy will be one of failure…decisions and policies that not only didn't make sense, but have been bad for our country. Let's not forget that NCLB was the one that started it all."
Debra would like people in support of creating public schools that are more about creating responsible, inventive citizens and not ones who do well on meaningless standardized tests, to send erasers or screws, whichever one a person is most comfortable in sending, along with a card that just says 'NCLB,' to Governor Tommy Thompson, Commission on No Child Left Behind, One Dupont Circle, NW, Suite 700, Washington D.C. 20036.
"We have a long way to reach our goal of one million erasers, but to quote that famous verse…A journey of 1,000 miles begins with that first step." Debra hopes to take her campaign national in August as parents are buying school supplies for their children.
People sending erasers or screws are asked to email her at StopNCLB.org so she can keep track unofficially on how many have been sent. "I've also heard great suggestions from supporters like sending broken pencils with erasers and old dirty erasers to the Commission on No Child Left Behind. Also please remember that even though it may way less than an ounce, additional postage might be needed because the letter has to be hand cancelled."
For more information on the "Million Erasers" or "Screw NCLB" campaigns, please call Debra Craig at (951) 247-6980 or email her through the secure link to the right.
# # #