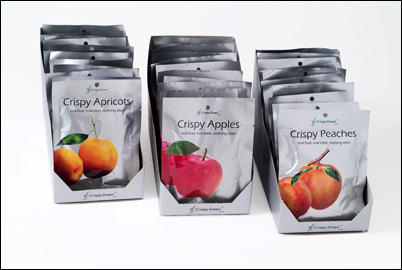 We are delighted to partner with Tree of Life and are excited to have the Crispy Fruit line of products debut in Texas at the Central Market
West Orange, NJ (PRWEB) June 6, 2006
Crispy Green Inc., the maker of Crispy Green® high-quality freeze-dried fruits snacks today announced that Tree of Life, one of the nation's leading distributors of natural, organic, specialty, ethnic and gourmet food products, has put the Crispy Fruit snack product line of Crispy Apples, Crispy Apricots and Crispy Peaches on the shelves at selected Central Market stores in Texas.
This is the first time that Crispy Fruit will be available at retail in Texas with an exclusive introduction at seven Central Market stores located in Austin, Dallas, Fort Worth, Houston, Plano and San Antonio. Central Market is a member of the Here Everything's Better (H-B-E) chain of retail stores and is one of the nation's largest independently owned food retailers with more than 300 stores that serve millions of customers in more than 150 communities throughout Texas and Mexico. A complete list of Central Market locations is available at http://centralmarket.com/cm/cmLocation.jsp.
"We are delighted to partner with Tree of Life and are excited to have the Crispy Fruit line of products debut in Texas at the Central Market," says Angela Liu, President and Founder of Crispy Green. "Tree of Life and Central Market share our core vision of providing mealtime offerings that are nutritious and better tasting to meet the needs of consumers who choose a lifestyle of 'living well.' We are committed to providing the most delicious and wholesome snacks to consumers using high-quality ingredients that are carefully chosen for taste and exceptional nutritional value."
Crispy Green® Crispy Fruit is currently available through Tree of Life Southwest division and will be available to all four Tree of Life divisions (Midwest, Northeast, Southeast) later this summer.
Real Fruit, Real Taste and Nothing Else!
Crispy Fruit snacks are made of 100% high-quality freeze-dried fruit with no additives or preservatives. Each serving is only 40 calories or less and they are ideal for consumers who are seeking healthy alternatives to traditional snack foods and are a fun and delicious way to increase daily fruit intake.
Crispy Fruit is available in convenient single-serving packages and are excellent snacks for all occasions. Crispy Fruit is perfect for children's lunch boxes or to keep in a briefcase, purse or in a school locker or office as an "emergency snack." Crispy Fruit provides healthy, natural fruit anytime!
New Additions Coming Soon
Crispy Fruit plans to add new flavors to the tasty Crispy Fruit product line, including: Crispy Pears and Crispy Pineapples. New products will be available later this year at Central Market and other fine grocers and health food stores.
Crispy Green products are available at supermarkets, natural and health food stores and other fine food stores in California, Connecticut, Delaware, Florida, Kansas, Kentucky, Maryland, Michigan, Missouri, Nevada, New Jersey, New York, North Carolina, Oregon, Ohio, Pennsylvania, Texas, Virginia and Washington, D.C. A complete list of retailers is available at http://crispygreen.com/storelocator/main.html. Please send us an email at info @ crispygreen.com if you would like to add your favorite retailer(s) to our distribution list.
About Crispy Green
Crispy Green Inc.(http://www.crispygreen.com) is the maker of Crispy Fruit freeze-dried fruit snacks sold under the brand Crispy Green® and a leader in this category of products. The company was founded in August 2004 with a core mission to provide delicious, healthy and wholesome snacks using the best natural ingredients with no artificial flavor enhancement.
The Crispy Fruit line of snacks are made of real fruit, real taste, and nothing else!™ A sophisticated freeze-drying process removes the water from fresh, sweet fruit, leaving behind the fruit's true essence in a light and crispy texture that's prefect for snacking. Crispy Green Crispy Fruit are a delicious, convenient way to add more fruit to your daily diet.
In the 2005, Crispy Green introduced Crispy Apples, Crispy Apricots and Crispy Peaches in the United States. It plans to add 2-3 new items to its product line each year for the next three years along with its rapidly growing distribution footprint.
# # #