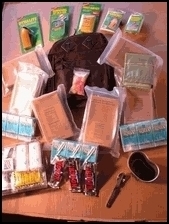 If you think about it, the guy who prepares and stocks up is often looked at as hoarding
Fulton, NY (PRWEB) June 6, 2006
With hurricane season officially here, many people in the Southeastern part of the country are stocking up on survival gear. That region, however, has no monopoly on natural disasters. Emergency planners urge families everywhere to be prepared for natural or man-made disasters and have the necessary supplies on hand in case they need to "bug out."
Ideally, families should have supplies available to insure survival for at least three days, which is the estimated time needed for relief to reach areas struck by a hurricane or other emergency situation. Tom Sciacca, CEO of http://www.CampingSurvival.com, is an avid outdoorsman and former Marine who urges people to be ready before disaster strikes.
"We do sell a lot of emergency gear during hurricane season, but we are really all about planning ahead," Sciacca said. "It's frustrating when people call us and have to pay next day shipping for survival supplies when they could have gotten it for a fraction of the cost a few weeks earlier."
One of the survival essentials Sciacca recommends is the MRE. Meals Ready to Eat (http://www.campingsurvival.com/fulmremilrea.html) have become well known because the military has purchased them to replace the much-maligned C-rations. MREs have a shelf life of up to 12 years, need no water to reconstitute, and can be eaten right out of the bag since they're already cooked. CampingSurvival.com carries a full selection of MREs from Sopakco, one of the firms that supplies the Department of Defense.
"If you think about it, the guy who prepares and stocks up is often looked at as hoarding," Sciacca said. "But he's actually doing the opposite. If you wait until the last minute to buy, you're putting a strain on the system and preventing others from getting what they need. If you prepare ahead of time, when the disaster occurs, you can easily evacuate or stay at home with everything you need."
Another essential for emergency situations is water purification. CampingSurvival.com offers several systems from water filters to chemical purifying agents at http://www.campingsurvival.com/watpur.html. These are also worth keeping on hand as contamination of local water systems becomes an increasingly common occurrence.
The National Hurricane Center recommends what is known as a Go Bag or 72-hour kit (http://www.campingsurvival.com/hugobagkit.html). This all-in-one package contains the absolute necessities needed for survival in case of an emergency. CampingSurvival.com not only carries a large inventory of these vital kits, but guarantees that all the supplies contained therein are of top quality.
About http://www.CampingSurvival.com:
CampingSurvival.com is a subsidiary of JHL Supply, a leading vendor of HVAC tools and equipment. The company is continuously updating and adding new hurricane and disaster survival products to the Web site while maintaining the ease of use that customers appreciate.
Contact:
Tom Sciacca
1-800-537-1339 x 221
http://www.campingsurvival.com
###