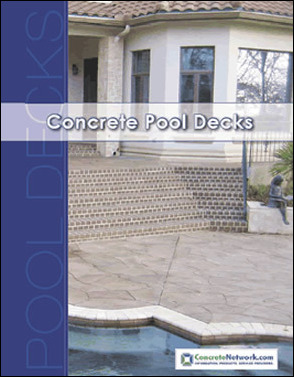 People are generally putting more money into their homes versus stocks or other sources. A pool deck is a great way to improve the value of a property and enjoy the investment
Yucaipa, CA (PRWEB) June 7, 2006 –-
With the summer season in full effect, Americans everywhere are spending more time at home and more time outdoors around the pool. Back yards are being transformed into luxurious extensions of the home with resort-like features that include a decorative concrete pool deck complimenting the surrounding landscape and water features.
The Concrete Network, the largest and most comprehensive source for concrete information, released a free online catalog about decorative concrete pool decks. This catalog is a convenient source of information for homeowners, builders and designers who are considering a concrete pool deck and want to understand the versatility and affordability of decorative concrete.
The catalog features information on patterns, colors, textures, designs, and styles possible with decorative concrete. It showcases numerous photos of concrete pool decks offering great ideas for planning a project. The catalog also provides information on popular stamp and stenciling patterns, and exposed aggregate applications.
Decorative concrete is quickly emerging as the new material of choice for today's pool deck. Because of the versatility—it can have smooth or rough texture, shaped in any style, colored in any hue, and can mimic other materials such as brick, slate, flagstone, etc. and can be as distinctive as the surrounding landscape. For more ideas, visit The Concrete Network's online photo gallery of decorative concrete pool decks.
"People are generally putting more money into their homes versus stocks or other sources. A pool deck is a great way to improve the value of a property and enjoy the investment," said concrete contractor Vince Vanheukelem of Colorado Hardscapes in Denver, Colorado, and a member of The Concrete Network.
For those who have an existing pool deck, but want to spruce it up or get rid of the boring, old, gray look, there is an easy option discussed in the catalog: concrete overlays and toppings. Textured and colored overlays can be applied over just about any surface. Some companies offer a spray-applied texture coat that provides the same decorative options, but also offers a slip resistant finish.
Established in 1999, The Concrete Network's purpose is to educate consumers, builders, and contractors on popular decorative techniques and applications including stamped concrete, stained concrete floors, concrete countertops, polished concrete, and much more. Over 750,000 visitors research The Concrete Network Web site each month.
The site excels at connecting buyers with local contractors in their area through its Find-A-Contractor service. The service provides visitors with a list of decorative concrete contractors throughout the U.S. and Canada, and is fully searchable by 22 types of decorative concrete work and 198 metropolitan areas throughout North America.
Photos courtesy of Custom DesignCrete, Inc. and Creative Concrete USA Inc.
###