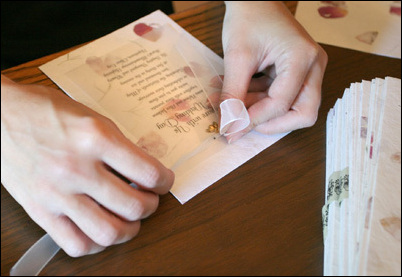 Downers Grove, IL (PRWEB) June 7, 2006
Save a substantial amount of money on wedding invitations, without sacrificing quality, by making them yourself using your computer. It's fun and easy to create unique wedding invitations, at a price you can afford, by layering fine printable paper over a heavyweight card and fastening them together with a distinctive embellishment. All you need is basic word processing software and a printer.
Select a Background
Start by choosing heavy cover stock for the background. A wide variety of ready to go, heavyweight papers are available from http//http://www.formal-invitations.com in many distinctive colors and textures -- try rich solids, shimmering metallics, printed cards with vintage designs, or handmade paper embedded with real flower petals.
Choose a Top Layer
Next, choose the paper you will print on to layer on top of the background card. Select from translucent vellum to reveal the background card beneath, or a crisp opaque white for contrast against darker cards. Be sure your chosen paper is compatible with the printer you will be using; a laser printer or copier is recommended. However, water resistant inkjet ink is available or you could use an inkjet printer to create the artwork, then photocopy it onto the overlay.
Add your text and any desired graphics, experimenting with different fonts and sizes to design a unique custom look. Free printable wedding invitations templates are available from Formal-Invitations.com, as well as step by step instructional videos.
Fasten Away
You can use various methods to fasten the printed overlay to the background card. Sheer and satin ribbons have a romantic look and you can further personalize with a tiny metal charm. For a modern look, use a distinctive fine paper sash accented with a skeleton leaf. A faux wax seal or silky tassel could be used to bind the papers together for a sophisticated look; or use a dainty crush- proof silk flower for a unique touch. Decorative brads are also available in wedding theme shapes and jeweled accents. Tried and tested embellishment are available at Formal-Invitations.com at an affordable price.
Off to the Post Office
Your local post office can weigh your finished product to determine the correct postage. Your guests will be impressed by your one of a kind unique invitations and no one will ever guess you made them yourself!
About the Author
Melissa Nyssen owns http://www.formal-invitations.com , providing unique and affordable blank wedding invitations supplies online since 1996. She loves looking for new distinctive papers and embellishments to add to their growing list of premium supplies.
###