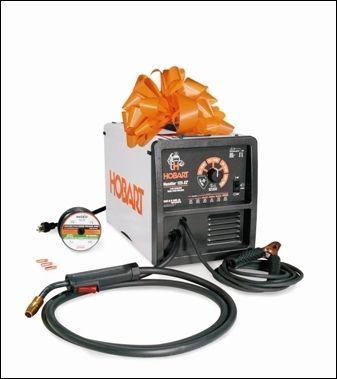 Using the Handler 125 EZ is like using a glue gun, except you're using the nozzle to direct the welding wire
Troy, Ohio (PRWEB) June 5, 2006
Do you think your dad is a man of steel? Then indulge dad this Father's Day with the gift of the new Hobart® Handler® 125 EZ, the world's easiest-to-use wire welder. With a $40 manufacturer's rebate from Hobart Welding Products and an estimated retail price around $400 before rebate, it's easier than ever to own this industrial-grade flux cored wire welder. For more information, visit http://www.hobartwelders.com.
Featuring a single control knob, the Handler 125 EZ enables someone with little or no welding experience to start producing good welds with minimal practice. Dad can unleash his ego on a number of welding projects including BBQ grills, classic car restoration, fireplace screens, backyard fire pits, ornamental fences, metal art, and numerous other projects around the home, farm or ranch.
Rebate forms, along with ideas for welding projects and welding advice, can be found at HobartWelders.com. The rebate is for Handler 125 EZ units purchased between May 1 and June 30, 2006, along with the UPC code from the side of the box and the original store receipt.
Best Welding Value
While the Handler 125 EZ is Hobart's most affordable welder, its industrial-grade construction and arc performance satisfy even professional welders. In fact, a leading handyman magazine rated the Handler 125 EZ as the "Best Value" in its review of the top 120-volt wire welders. Handler 125 EZ provides strong welds and good weld consistency on steel thicknesses ranging from 18 gauge to 3/16 in.
"The Handler 125 EZ makes a great Father's Day gift for anyone who works with tools, loves to tackle handyman-type projects or who enjoys woodworking and wants to step up to steel," says Dave Enneking, Hobart product manager.
While welding may appear difficult and dangerous, the right equipment and standard safety precautions make welding easy, fun and safe. Anyone with decent hand-eye coordination can make a good weld using the Handler 125 EZ after just a few hours of practice.
"Using the Handler 125 EZ is like using a glue gun, except you're using the nozzle to direct the welding wire," says Enneking.
More than six million people weld in the United States, and the number of "do-it-yourself" welders is growing rapidly. This is due to the number of reality TV shows that feature welding on motorcycles and cars, as well as the growing appeal of a rural, "can-do" lifestyle as Americas move out of congested urban areas.
Simple Control
The Handler 125 EZ offers quicker and easier set up than any other welder in its class. A single selector switch automatically sets the right welding parameters based on the thickness of steel being welded. Users only need to set the selector switch, pull the trigger and begin welding.
The unit comes ready to weld mild steel using .030 or .035-in. flux cored wire and works well for outdoor welding because no shielding gas is required. For portability, it weighs 50 lbs. and plugs into a typical 120-V outlet. This unit has a maximum output of 125 amps.
Hobart backs the Handler 125 EZ with its 5/3/1 warranty, which covers the transformer for five years, the switches, controls and valves for three years and the torch for one year. For a detailed spec sheet or free literature, visit HobartWelders.com, call 1-877-HOBART1 (462-2781) or write to Hobart Welding Products at P.O. Box 100, Lithonia, GA 30058.
Hobart Welding Products offers a complete line of industrial-grade Stick, MIG, TIG and spot welders, plasma cutters and generator/welding power sources designed for easy use. Hobart products are available through farm and tool retail stores as well as welding supply distributors. More information is available at HobartWelders.com, and free literature can be obtained by calling toll-free 877-HOBART1 (877-462-2781), faxing 877-327-8132 or writing Hobart Welding Products, P.O. Box 100, Lithonia, GA 30058.
Hobart Welding Products is a division of Hobart Brothers Company, Troy, Ohio, a wholly owned subsidiary of Illinois Tool Works Inc. (ITW). Based in Glenview, Ill. ITW is a multinational Fortune 200 company that engineers and manufactures welding products, fasteners, components, assemblies and systems for customers around the world.
Press Contact:
Ron Piskula
Insight Marketing
Office: (262) 240-9790
Mobile: (262) 573-3914
# # #