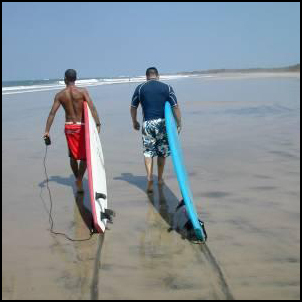 Before travelers buy airline tickets or book a hotel, before they are even 100% sure where they want to go, they come to VirtualTourist to research trips. They come to talk with other travelers about their plans
Manhattan Beach, CA (PRWEB) June 6, 2006
As travelers around the globe gear up for the summer travel season, VirtualTourist.com reveals the destinations -- U.S. and International -- forecasted to be this summer's most traveled to locales.
VirtualTourist.com is one of the largest online travel research sites and travel communities, which gives VirtualTourist insider knowledge on the cities and towns, beaches and parks, getaways and hideaways that travelers are researching and talking about.
"Before travelers buy airline tickets or book a hotel, before they are even 100% sure where they want to go, they come to VirtualTourist to research trips. They come to talk with other travelers about their plans," says J.R. Johnson, CEO of VirtualTourist.com. "And because they come to VirtualTourist first, we know where they're thinking about going."
"VirtualTourist knows what the next big travel trends are going to be before they're featured in the pages of glossy travel magazines," Johnson adds. "And what makes VirtualTourist even more unique is that after travelers visit the next big thing, they come back to VirtualTourist to share their tips and photos with other travelers."
VirtualTourist analyzes the research activities of its more than 725,000 registered members to determine what will be the most popular, and what are the most up-and-coming, travel destinations around the world.
The VirtualTourist Travel Forecaster identifies locations most popular among travel researchers. While the VirtualTourist Up-and-Comers Index pinpoints locales that have experienced the greatest swell in interest over the past six months.
VIRTUALTOURIST TRAVEL FORECASTER, SUMMER 2006*
U.S. Destinations
2 San Francisco, CA
3 Las Vegas, NV
4 Chicago, IL
5 San Diego, CA
6 Los Angeles, CA
7 Philadelphia, PA
8 Naples, FL
9 Austin, TX
10 Boston, MA
International Destinations
2 Paris, France
3 London, England
4 Prague, Czech Republic
5 Budapest, Hungary
6 Venice, Italy
7 Barcelona, Spain
8 Florence, Italy
9 Bangkok, Thailand
10 Sharm El Sheikh, Egypt
VIRTUALTOURIST UP-AND-COMERS INDEX, SUMMER 2006**
U.S. Destinations
2 Savannah, GA
3 Monterey, CA
4 Portland, OR
5 Moab, UT
6 Charleston, SC
7 Lahaina, HI
8 Nashville, TN
9 Anchorage, AK
10 Mount Rainier National Park, WA
International Destinations
2 Dubrovnik, Croatia
3 Vilnius, Lithuania
4 Jaipur, India
5 Paphos, Greece
6 Puerto Galera, Philippines
7 Split, Croatia
8 Pulau Langkawi, Malaysia
9 Ljubljana, Slovenia
10 Dubai, United Arab Emirates
*Based on travel research conducted and travel forum questions posted on VirtualTourist.com between 4/1/06 to 5/31/06.
** Based on increases in travel research conducted and travel forum questions posted on VirtualTourist.com from January 2006 to May 2006.
About VirtualTourist.com
VirtualTourist is one of the largest online travel research sites / travel communities in the world, and a premier resource for traveler's seeking an insider perspective. On VirtualTourist, real people share real advice on places they've traveled as well as their hometowns; they research and plan trips and vacations, and they interact with other avid travelers via forums and email. By the numbers, VirtualTourist boasts 1.3 million travel reviews and nearly 2.5 million photos on more than 25,000 destinations worldwide. Unbiased, user-generated content on Hotels, Attractions, Local Customs, Tourist Traps and much more is posted entirely by VirtualTourist's more than 725,000 registered members from over 220 countries and territories. Among VirtualTourist's awards and accolades: "Recommended Travel Forum," Time Magazine; "Most Popular Guide," Yahoo!
# # #