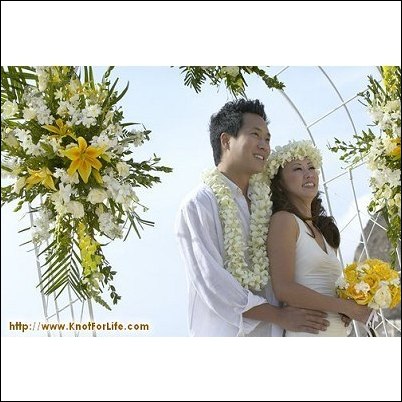 Chicago, IL (PRWEB) June 8, 2006
(PRWEB) June 8, 2006 -- More and more couples are opting for themed Wedding celebrations instead of the classic, formal white weddings. If you are getting married this summer, check out these creative, nature-inspired themes which are guaranteed to make your wedding a day to remember:
Beach Themed Wedding
Choose a public or a private beach for the wedding venue and get necessary permissions for using it for your wedding. Let your theme reflect on your invitations and stationery by adding sea elements and decorations on them. Decorations aren't going to cost a fortune as the beach itself will provide the setting. You can add special touches by using seashells in the table settings and centerpieces etc. Choose a beach-themed wedding cake to add to the theme. Add seafood to the menu and include some sea products as wedding favors.
Garden Themed Wedding
You have two options here. Either you choose a public or a private garden to host your wedding reception or decorate any venue on a garden theme. Whichever you choose, add nature elements to your invitations and decor. Use potted plants, topiaries, arches, benches and fountains. Make little pathways leading to different areas of the reception. Wrought iron chairs, tables, gates, lamp posts, birdbaths and picket fences etc. will complete the picture. Summer Wedding Flowers will complement the decor. Include dishes made of fresh seasonal produce in the menu and choose a garden themed wedding cake like a tiered cake with the base of a fountain or cakes decorated with fresh flowers or berries. Potted plants or other natural products can be given as favors.
Mid-Summer Wedding Theme
For this theme combining nature and old-world charm, choose an outdoor venue and have the ceremony under a flower-covered altar. Choose mid-summer motifs such as butterflies, vines or even fairies for your stationery. Use the brightest summer blooms for flowers for decorations and bouquets. Brides can use fresh flowers in their hair instead of other accessories. A summer-themed cake using fresh flowers or fruits, a light menu with lots of fresh fruits and cool drinks or ice-cream will complement the theme perfectly.
Patriotic Wedding Theme
July Brides and Grooms can opt for a patriotic wedding theme this summer. An outdoor wedding location is a must to enjoy the warmth and freshness of summer. Use colors and motifs of your flag in your stationery and decorations. The Bride and Groom can wear classic attire and spark things up with gemstone jewelry and ties in patriotic colors. Even the bride's bouquet can be made up in patriotic colors. Have a barbecue-inspired menu. You can even have a fireworks display at your reception!
Victorian Wedding Theme
An old mansion or inn or even a garden is the perfect location for a Victorian themed wedding. Go in for formal invitations with engravings, scrolls or even sonnets added to it. Think antique and classic for the decor - delicate teacups, magnificent chandeliers etc. Old-fashioned roses for the bride's bouquet and other floral decorations will add to the whole effect. Classic attires, elegant white tiered wedding cake, Victorian music and favors wrapped in tulle or antique lace handkerchiefs will lend perfection to the theme.
More themed wedding ideas, planning tips, wedding fashion trends, pre and post wedding advice and photo galleries for wedding cakes, bridal hairstyles, table setting, bridal bouquets etc. can be found on our wedding planning website.
###