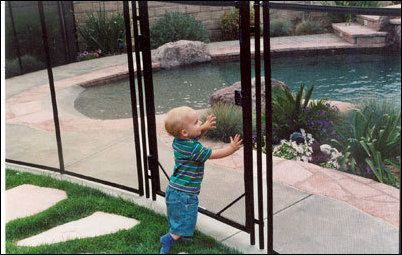 Sarasota, Fla. & Van Nuys, California (PRWEB) June 7, 2006
Invisa, Inc. (OTCBB:INSA) and Guardian Pool Fence Systems, Inc. announced their plans to jointly develop an innovative, next generation swimming pool safety system by combining Invisa's patented "InvisaShield™" electronic non-contact safety technology with Guardian's state of the art swimming pool fencing technology. The new pool fence safety system is being designed to be the first parent interactive electronic swimming pool fence that will detect "potential breaches" and sound an alarm even before a child has crossed the pool fence's perimeter, allowing for quicker adult notification and response times to prevent injuries and deaths due to drowning. In pool accidents, even mere seconds can mean the difference between saving a child's life and the occurrence of a tragic and irreversible event. Product availability and commercial roll-out of the new system is expected to be completed in the next 6 to 8 months to coincide with the summer 2007 swimming pool trade show and marketing circuit.
Drowning is the leading cause of death to children ages 14 and under in Florida, California, Arizona, Texas and Hawaii and four other states. Two-thirds of all drownings occur in the summer between May and August. In the United States, each year about 1,150 children in this age group drown.
Between 1990 and 1998 there were 5,803 children five years of age or under that were drowning victims in the United States. States, including Florida, have laws mandating swimming pool fences. However, many experts warn of the important role that parents play in preventing swimming pool accidents. Drowning is a leading cause of unintentional injury and death among children ages 1 and 2.
Thousands of swimming pool fences are installed each year and the market for swimming pool fences is growing at approximately 20 per cent per year. Guardian is the largest manufacturer of swimming pool fencing in the US.
Steve Sadinsky, President of Guardian Pool Fence Systems, stated, "We have been aware of Invisa's unique sensing technology for a number of years now, and are very excited about the opportunity to partner with Invisa. Through our joint efforts, we are on a mission to create significant increases to pool safety by combining InvisaShield with our swimming pool fencing products. We expect this new product to result in a quantum improvement in safety around backyard pools. If it results in helping parents prevent even just one child from drowning, then the effort will have been worth the time and energy put into this joint venture. Guardian Pool Fence Systems has always put safety first by building and selling the most technologically advanced pool fence system available to the residential market today. We look forward to bringing the resources of both our companies together to make the most dangerous area in many homes materially safer."
Carl Parks, Vice President of Operation for Invisa, stated, "We have long recognized that the swimming pool market represents a big opportunity for Invisa's technology. The need for safety solutions based on parent involvement is overwhelming. With pool fencing being mandatory in some states, and with the continued high incidence of fatal accidents we could not find a more worthy or suitable application of our combined engineering talents. We are pleased that we could establish a strategic relationship with Guardian Pool Fence Systems, one of the largest and most respected swimming pool fence manufacturers in the US. We expect this joint development project will soon represent a significant addition to Invisa's and Guardian's future growth."
About Guardian Pool Fence Systems, Inc.
Based in Van Nuys California, Guardian Pool Systems, Inc. is an industry leading manufacture of innovative patented fencing solutions for the residential market. For more information visit http://www.guardianpoolfence.com or call 1-800-366-SAFE(7233). Steven Sadinsky, Guardian's President, has been involved with swimming pool safety since 1988. He founded Guardian Pool Fence Systems in 1995 because not enough was being done to prevent infants and toddlers from swimming pool drownings. Guardian has approximately 35 employees and markets it's safety barrier through a dealer network of trained authorized dealers all over North America and throughout the European Union.
About Invisa, Inc.
Invisa presence-sensing solutions serve the electronic life safety and security markets. Invisa's proprietary InvisaShield technology is based upon capacitive sensing and is resistant to known methods of circumvention without employing infrared, laser, ultrasound or microwave radiation. InvisaShield can detect intruders who violate a sensing zone ranging from millimeters up to 1 meter. Invisa's SmartGate® safety system generates an invisible protective field that moves with and precedes the potentially hazardous leading edge of powered gates, garage doors, sliding doors and other powered closures. With an estimated 60,000 new parking control gates installed each year, and an installed base of over 1,000,000 gates worldwide, an enormous market currently exists for Invisa's SmartGate technology. In addition to parking gates, Invisa is currently developing a similar line of products based on its patented InvisaShield® technology for the overhead, garage and industrial door markets and for the museum security market. For information about SmartGate® products or the patented InvisaShield® technology, visit http://www.invisa.com or call
941-355-9361. A video of SmartGate in action can be viewed at the company Web site.
This press release contains certain forward-looking statements within the meaning of the Private Securities Litigation Reform Act of 1995. The company has tried, whenever possible, to identify these forward-looking statements using words such as "anticipates," "believes," "estimates," "expects," "plans," "intends," "potential" and similar expressions. These statements reflect the company's current beliefs and are based upon currently available information. Accordingly, such forward-looking statements involve known and unknown risks, uncertainties and other factors which could cause the company's actual results, performance or achievements to differ materially from those expressed in or implied by such statements. Factors which may cause such differences include the company's ability to meet planned delivery schedules, cancellation of orders, and other risks disclosed in the company's SEC filings. The company undertakes no obligation to update or advise in the event of any change, addition or alteration to the information covered in this press release, including such forward-looking statements.
Contact:
Invisa, Inc.
http://www.invisa.com
Carl Parks
941-355-9361
Investor Relations
Rich Schineller
941-918-1913
Guardian Pool Fence, Inc.
http://www.guardianpoolfence.com
Steve Sadinsky
1-800-366-7233
###